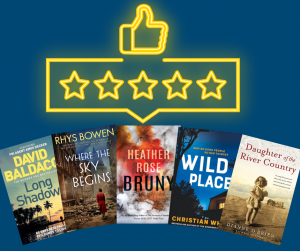 These titles got awarded ⭐5/5 from the Kyogle Book Discussion Group.
Keep reading to see how they rated the other titles they've been reading.
Hassanah
Long shadows by David Baldacci – ⭐5/5
No Gods, no monsters by Cadwell Turnbull – ⭐1/5
One of the girls by Lucy Clarke – ⭐4.5/5
The search by Nora Roberts – ⭐4.5/5
Susan
Echo lake by Joan Sauers – ⭐4.5/5
The long game  by Simon Rowell – ⭐3.5/5
The dictionary of lost words by Pip Williams – ⭐4/5
See how to be remembered by Michael Thompson – ⭐4.5/5
Vickie
Wild place by Christian White  – ⭐5/5
The carnival is over by Greg Woodland – ⭐4.5/5
Prime cut by Allen Carter – ⭐4.5/5
Catrina
Here and now by Santa Montefiore  – ⭐4.5/5
Where the sky begins by Rhys Bowen –  ⭐5/5
Daughter of the river country by Dianne O'Brien – ⭐5/5
Jenny
The dog whisperer by John Richardson – ⭐5/5
Bruny by Heather Rose – ⭐5/5
If you would like to know more about our Kyogle and Casino Book Discussion Groups, check out our adult programs page.