The Mid Richmond which includes the villages of Broadwater, Rileys Hill, Woodburn, Evans Head, Coraki and New Italy, is blessed with stunning natural beauty.
With the completion of the Pacific Highway upgrade in 2020, it is anticipated the reduction in traffic, together with its strategic location within 1.5 hours of the Gold Coast and 2.5 hours of Brisbane, will result in a significant increase in demand for residential living opportunities.
Council is using its strong linkages with both State and Federal governments to maximise the opportunity and impact of grants and available funding to provide the infrastructure and services needed to enrich the lifestyle of residents, as well as attracting visitors.
In addition to promoting and leveraging residential development and living opportunities, Council is building on existing tourism plans to capitalise on the natural and built assets of the region; expanding the impact and attraction of events, cultural tourism and agri-tourism.
To this end Council has produced this guide – Imagine – 2020 and Beyond – Supporting Progress in the Mid Richmond.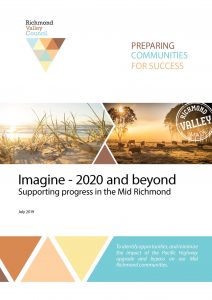 Four priority action goals are addressed in this guide.
• Enhancing liveability
• Economic prosperity
• Healthy and happy people
• Investment in the future
This guide functions as a road map to the future economic development of the Mid Richmond, and positive plan for the future of this beautiful part of the Richmond Valley.