There's a wide range of programs and events for adults and children held regularly at our libraries. You can view our current eNewsletter and follow us on Facebook to keep up-to-date with what's on and follow us on Facebook. If you would like to receive our eNewsletter straight to your inbox, you can sign up here. For more information about any of our programs or events please contact your local library branch. If you've attended one of our events or programs and would like to provide us with feedback, you can do that here.

---
School Holidays Activities
Casino Library
Please call Casino Library on 6660 0250 to make a booking.
Decorate a Paper Mache Box
Tuesday April 11th @ 10am
Tuesday April 18th @ 10am
Suitable for 5-12 year olds.
Movie: Fast & Furriest
Wednesday April 12th @ 10.30am
Suitable for 5-12 year olds.
Decorate a Launch Kite
Wednesday April 19th @ 10.30am
Suitable for 5-12 year olds.
Kyogle Library
Please call Kyogle Library on 6660 0240 for bookings.
Cool STEM Craft
Wednesday April 19th @ 10.30am
Thursday April 20th @ 10.30am
Cool STEM Lego Activity
Wednesday April 19th @ 1pm
Thursday April 20th @ 1pm
Suitable for 5-12 year olds.
---
Cool Burn Movie Arvo
Friday, March 31st, 4.30-5.30pm
Kyogle Library
This youth movie is to share land management practices of first nations people in maintaining healthy ecosystems.
RSVP with the QR Code on the image.
---
RUCRL Easter Colouring Competition
Entries close April 1st.
Pick up a copy of the picture for your age from your local library or you can download it below, colour it in and hand it back by the 1st of April for your chance to win a prize.
Prizes & pictures below:
4-7years: Easter craft kit
8-12years: Easter craft kit
13-18years: Local voucher
Adult: Local voucher
---
Pride Line
Thursday March 2nd – Sunday July 9th, 24 hours a day
As part of our Library's commitment to supporting our LGBTQI+ community we're working with the State Library of NSW to promote a new campaign called Pride Line, where members of the public are being asked to share their stories of pride.
Anyone can call Pride Line from their own device on 9273 1212 (local call costs apply) and leave a voice message with their thoughts, feelings and experiences. The recordings will then be collected as part of the State Library's LGBTQI+ collections.
Pride Line will run 24 hours a day from Thursday 2 March until Sunday 9 July 2023.
For more information, please visit www.sl.nsw.gov.au/prideline
---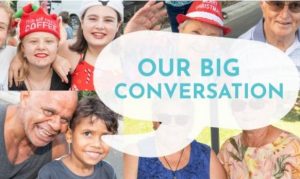 Our Big Conversation
Richmond Valley Council is in the final stages of its latest Community Strategic Plan – which will guide its priorities and direction towards 2040.
You can help guide this plan by telling us about your best ideas on our online survey board. Short and sweet, give us your idea, and it'll be posted up on the board.
While you're on the site, look at all the other ideas that have come in, and drop a heart on anything you agree with.
The survey board can be found here: https://bit.ly/3JnLYUH
---
Casino Film Club: Sometimes Always Never
Friday, April 14th
Doors open 9.30am
Movie starts 10.00am
Alan is a stylish tailor with moves as sharp as his suits. He has spent years searching tirelessly for his missing son Michael who stormed out over a game of scrabble. With a body to identify and his family torn apart, Alan must repair the relationship with his youngest son Peter and solve the mystery of an online player who he thinks could be Michael, so he can finally move on and reunite his family.
Call Casino Library on 6660 0250 to make a booking.
---
Ben's Book Club
Tuesday, April 25th, 7.30pm – 8.30pm
Join Ben Hobson in conversation with author Joanna Jenkins to discuss her gripping thriller 'How to Kill a Client'. This event will be hosted on Zoom, and the link will be sent to all attendees on the day of the event.
Joanna Jenkins grew up on a small farm in country Queensland. After graduating from the University of Queensland in the late eighties with degrees in English Literature and Law, she practised as a solicitor in Big Law, including, for many years, as a partner of an international law firm. In one firm she worked at, Joanna was the first person to work part-time after having a baby, and in another was, for a couple of years, the only female partner of the Brisbane office. She now writes full-time. Married with three sons, Joanna lives in Brisbane. 'How to Kill a Client' is her first novel.
During this digital book club, guests will have the opportunity to ask questions, interact with the authors, and enjoy a well-rounded bookish discussion.
Click here for more information and to register for this free online event.
---
---