Richmond Valley Flood Study
In 2021 Council commenced the Richmond Valley Flood Study with financial and technical assistance provided by the Department of Planning, Industry and Environment under the Floodplain Management Program.
Council has commissioned engineering consultants BMT to expand, update and consolidate into one model the existing older models prepared in 1999, 2010 and 2014 by using improved datasets and flood modelling techniques. The Flood Study covers the main rivers and creeks within the Richmond Valley Local Government Area (LGA) from upstream of Casino to downstream of Broadwater.  A map of the study area is shown below based on preliminary model extents, although noting that the flood model will extend beyond this study area to capture the full floodplain.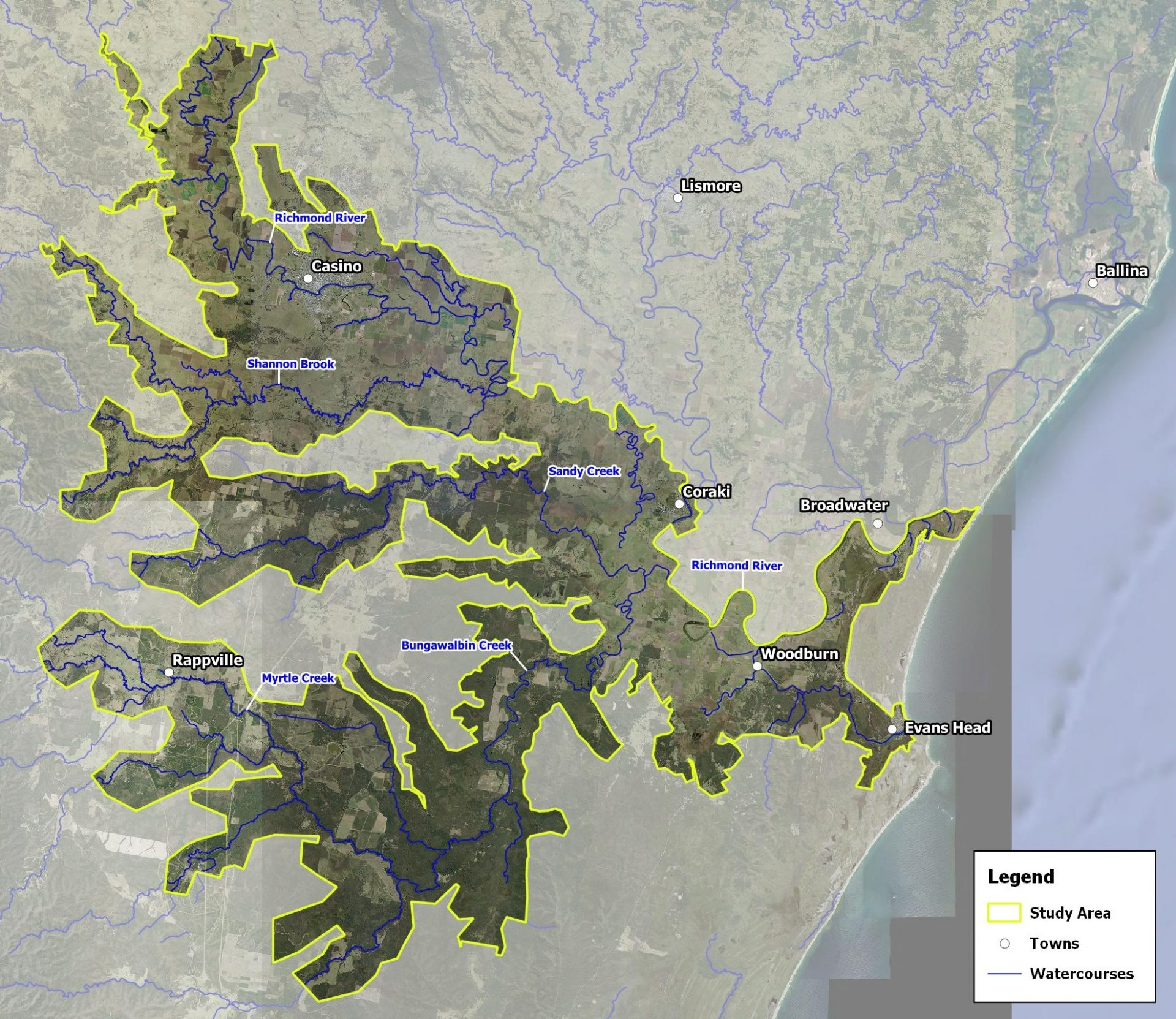 Council has taken the initiative to carry out the flood study to assist with managing the risk the community faces from flooding. The Richmond Valley Flood Study is expected to be completed by late 2021 and will guide the direction of future floodplain management actions in the Richmond Valley.
The flood study is in its inception stage where the consultants are collecting and collating data on flooding and the catchment. These data will be essential for the development of detailed rainfall/runoff (hydrology) and flood (hydraulic) models.  The models will provide the technical analysis required for the flood study and future development of a single Floodplain Risk Management Plan.
To assist the consultants in capturing meaningful data, residents are encouraged to provide any relevant information on highest known floods, including photos, stories or flood marks on or near their properties, with a focus on areas not captured in previous models, including the Bungawalbin area and the upper reaches of the Richmond River.
If you have any such information or wish to make a comment on flooding, you can provide your comments to BMT via the project email:
Email: RichmondValleyFS@bmtglobal.com
Alternatively, comments can be received by post using the address below:
Richmond Valley Flood Study
BMT
PO Box 203
Spring Hill QLD 4004
This webpage will be updated as the project progresses. Council will also undertake further consultation when the Draft Report is ready for public exhibition later in the year.
For more information on the project, please contact Council's Support Engineer on 02 6660 0247.

---
Richmond Valley flood mapping
A base flood model has been prepared in conjunction with Richmond River County Council: Richmond Valley Flood Mapping Map and Richmond River Flood Mapping Final Report. In addition to the base design floods, two climate change scenarios were included in the flood mapping.  These reports, available from the list at the end of the page, do not include Council's adopted climate change scenario.
---
Climate Change Scenario 3 – Update flood modelling
2010 Base Design Flood Model
+ 900mm sea level rise
+ 10% increase in rainfall intensity
At the Council meeting of 15 June 2010, Council adopted Scenario 3 to apply to the 2010 base flood modelling.  Levels and velocity vectors for this scenario have been prepared for the Q20, Q50, Q100, Q500 year and PMF design floods.  The new flood levels with Climate Change 3 form the basis for future development in accordance with Council's Floodplain Risk Management Plans.
New flood mapping, minimum habitable floor levels and hazard categories in accordance with Council's adopted Floodplain Risk Management Plans are also available. On the upstream overlap with the downstream area of the Casino model (eg industrial estate to Queen Elizabeth Park to Showground, etc) the new 2010 model will take priority, but is subject to individual merit at the location. The Casino model is nearing completion of an update that will also include Council's adopted Climate Change 3 scenario.
The updated information is being prepared for addition to Council's website. Updated house floor survey tables are also being prepared. However, in the meantime, for all related enquiries, please contact Customer Service on (02) 6660 0300.
---
Further information
There have been a number of flood studies conducted in the Richmond Valley area.  Review the 'Flood Information Definitions' document in conjunction with the maps below.
---
Disclaimer
The material contained on this website is provided for general information only and should not be relied upon for any particular purpose. It is made available on the understanding that Richmond Valley Council is not hereby engaged in rendering professional advice. In some cases the material may incorporate or summarise views, guidelines or recommendations of third parties. Such material is assembled in good faith, but does not necessarily reflect the considered views of Richmond Valley Council, or indicate a commitment to a particular course of action.
Richmond Valley Council does not guarantee that the content, data or any other information is complete or without errors or omissions and therefore disclaims all liability for any error, loss or damage that may arise from the information contained on this map. While every attempt has been made to present the information accurately, there may be errors. Therefore, users should consult the original material themselves or relevant experts to determine the fitness-for-use of the content, data or any other information. Links to other websites are inserted for convenience and do not constitute endorsement of material at those sites, or any associated organisation, product or service.