Richmond Valley Council welcomes and appreciates new, existing and prospective businesses that want to commence or expand here.
This guide aims to whet the appetite of your business and demonstrate the Richmond Valley's rich natural attributes, logistical advantage and robust economic development strategy to you.
The area welcomes new business to leverage off already established and successful industries, bring something old that is new; or of course is a leader in new manufacturing or technology. Whatever the case, we are ready to listen, and assist. With a beach and bush lifestyle together with very affordable real estate, there is every chance of securing the winning formula you seek.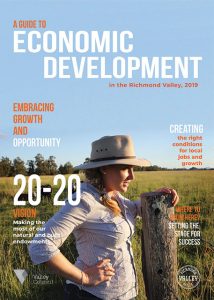 However, this guide will never replace a phone call or the personal touch! Richmond Valley Council is staffed by professionals who not only want to help; they have the business acumen and local knowledge along with a philosophy of 'how can we make it happen'.
See below for link to your copy of the Guide to Economic Development in the Richmond Valley.