The Richmond Valley Local Environmental Plan 2012 (the LEP) is the principle planning scheme for the Richmond Valley LGA.  The scheme is based on the NSW Governments Standard Instrument LEP with some local content.
The LEP has adopted the following Land Zones:
Rural Zones
RU1 Primary Production
RU3 Forestry
Residential Zones
R1 General Residential
RU5 Village
R5 Large Lot Residential
Industrial Zone
Employment Zones
E1 Local Centre
E2 Commercial Centre
E4 General Industrial
W4 Working Waterfront
Special Purpose Zones
SP1 Special Activities
SP2 Infrastructure
Recreational Zones
RE1 Public Recreation
RE2 Private Recreation
Environmental Zones
E1 National Parks and Nature Reserves
E2 Environmental Conservation
E3 Environmental Management
W1 Natural Waterways
W2 Recreational Waterways
LEP Mapping
Richmond Valley Local Environmental Plan 2012 (LEP) presents information in a number of different maps based on a grid with sheets numbered as per Figure 1.
Note: Sheets with an A, B or C in the label are insets covering towns and villages. These sheets have only been used where additional detailed mapping has warranted their use.
The LEP Map types used in the LEP are:
Land Application Map (LAP) – Displays the coverage for the LEP for the entire Richmond Valley Council Local Government Area.
Land Zone Map (LZN) – Displays the Zoning for land.
Lot Size Map (LSZ) – Provides the minimum lot size for subdivision.
Height of Buildings Map (HOB) – Determines the maximum height of buildings.
Heritage Map (HER) – Displays items of Heritage and Conservation Areas.
Land Reservation Acquisition Map (LRA) – Identifies land required for public purposes such as for National Park or Upgrading of the Pacific Highway.
Dwelling Opportunity Map (DWE) – Maps dwelling opportunities carried over from previous Planning Schemes.
Acid Sulfate Soils Map (ASS) – Displays potential Acid Sulfate Soil hazard and classifies the hazard based on likely depth the ASS can be found below natural ground level.
Natural Resources – Terrestrial Biodiversity (BIO) – Overlay mapping for native vegetation and habitat corridors.
Natural Resources – Wetlands (CL1) – Overlay mapping wetland areas.
Natural Resources – Landslide Risk Map (LRI) – Overlay mapping
Natural Resources – Riparian Land and Watercourses (CL1) – Overlay mapping waterways identified by NSW DPI – Fisheries as important for fishery health. Includes a 40m buffer.
Drinking Water Catchments (DWC) – An overlay map for drinking water catchments for the Casino Township and the Rous Water Woodburn ground water bores (+500m buffer).
The official PDF maps are available from the NSW Legislation Website. Use the grid map below as a guideline to help search the range of maps above via the NSW Planning Portal.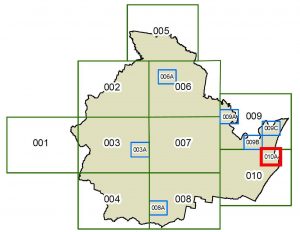 Figure 1 – Diagram illustrating the grid layout and numbering of sheets for the Richmond Valley LEP 2012.
Rezoning and Planning Proposals
Where a development is not permitted under the Richmond Valley Local Environmental Plan 2012 (LEP) an amendment will be necessary to make it permissible.
A Planning Proposal (or rezoning application as it is sometimes known) is the first step in the process to amend the LEP to enable a development to be permissible in the zone or upon the land.  A PP is a document that:
explains the intended effect of a proposed LEP amendment
outlines potential or intended development outcomes from the amendment and sets out the justification for making that amendment.
Council must first support a Planning Proposal before it can proceed further. Any Planning Proposal supported by Council must be referred to the NSW Department of Planning, Industry and Environment's (DPIE) "Planning Gateway" which must issue a Gateway determination (a Gateway) to either proceed subject to specified conditions, or not proceed.
Prior to any formal exhibition of a planning proposal Council must first consult with public authorities that are specified in the Gateway. It must also publicly exhibit and undertake community and other stakeholder consultation as directed in the Gateway. Typical exhibition/consultation periods range between 14 to 28 days.
From the 7 December 2020, it is mandatory for all planning proposals to be submitted via the NSW Planning Portal.  Upon acceptance of the Planning Proposal, and submission of all necessary support documentation, Council will Invoice the applicant for fees (all Milestone payments will be required upfront – any unspent fees can be refunded at the end of the process (note Council will charge its time $150/hr) however additional fees will be liable if Council is required to prepare any part of the Planning Proposal or engage consultants to prepare specialist reports to support the Planning Proposal).
Further information in relation to Planning Proposals can be obtained by contacting Council on (02) 6660 0300.
Links:
NSW Planning Portal
https://legislation.nsw.gov.au/view/html/inforce/current/epi-2012-0098
Local Environmental Plan Maps
https://www.planningportal.nsw.gov.au/publications/environmental-planning-instruments/richmond-valley-local-environmental-plan-2012
Current planning proposals
https://www.planningportal.nsw.gov.au/ppr