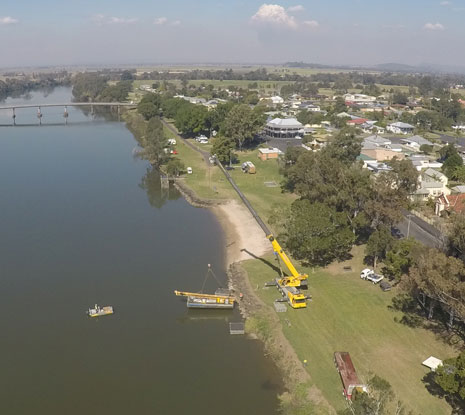 Council invested $452,820 in Coraki's scenic riverside precinct (with $122,820 coming from the NSW Government's Boating Now Program) to provide valuable new recreational infrastructure for residents and visitors.
New elements of the park include a pontoon and boat ramp for recreational fishers, a 570m long path linking the boat ramp to the Coraki Riverside Caravan Park, an upgraded beach area featuring a sandstone retaining wall, and the installation of outdoor furniture, barbecues, shelters, and Aboriginal art installations. Council has also developed an extensive nature walk to the south of town which connects to the riverside precinct and vastly extends public access to the riverbank.
The next project on the horizon is the construction of a new amenities block for the Coraki Riverside Caravan Park, courtesy of a $550,000 grant from the Federal Government. This is anticipated to boost visitor numbers to the increasingly popular caravan park and continue to build Coraki's reputation as a go-to precinct for fishing, boating, swimming, sailing and bird watching.
The project has delivered:
• New pontoon and boat ramp
• New pathway adjacent to the Richmond River
• Expansion and upgrade of the beach
• Installation of new outdoor furniture, barbecues
• New amenities block in the caravan park including camp kitchen
• Installation of rural fencing for a nature walk to East Coraki
• Installation of fitness stations on Richmond Terrace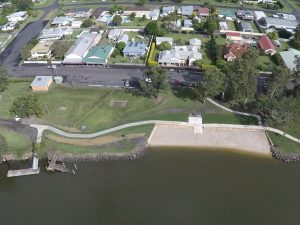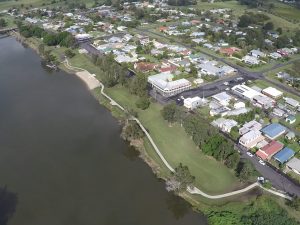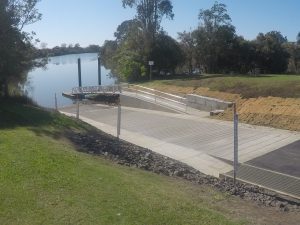 About Coraki
Situated at the junction of the Richmond and Wilson rivers – hence the Aboriginal name for 'meeting of the waters' – Coraki lies to the west of Pacific Highway and south west of Ballina. The major access road from the Pacific Highway is from Woodburn, which is 18km from Coraki, and connects Coraki with Casino, 31km further inland.
Coraki is the tea tree capital of the region, and your go-to precinct for fishing, boating, swimming, sailing and bird watching. Its quiet charm and the genuine hospitality of the locals is a welcome bonus.
The Coraki Riverside Caravan Park and Camping Grounds, centrally located in the village right beside the river, makes for a peaceful home base when visiting the region.
If you would like to stay at the Caravan Park please click here for further details.