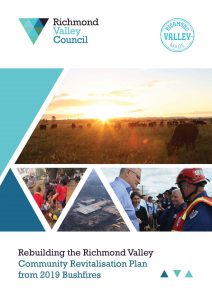 THE fires which tore through the Richmond Valley in late 2019 created one of the most severe and traumatic events in the local government area's history.
According to Richmond Valley Council Mayor Robert Mustow, watching fellow citizens lose everything they owned and cared about was heartbreaking.
Cr Mustow said the impact on the local environment was also hard to comprehend, with almost 50 percent of land in the local government area burnt.
He said it was hard to imagine how communities would want to rebuild after such a destructive event, however, he said rebuilding created and fostered community resiliency.
"Rebuilding a community after a major disaster is an important part in the healing process, and timely action will be challenging but essential for our fire-affected communities," Cr Mustow said.
"It is a priority of Richmond Valley Council to ensure recovery and cleanup is undertaken in the timeliest manner possible, and that residents are encouraged to rebuild."
The Richmond Valley was severely impacted by two significant bushfire events in October and November which resulted in 142,741 hectares of land burnt, and more than 350 homes, outbuildings and facilities destroyed or damaged.
Key industries, including primary producers and forestry, were also heavily impacted.
Cr Mustow said the devastating events saw homes, businesses, livestock, grazing land, forestry, crops, machinery and infrastructure lost or damaged.
"The firefighting operation, from the command centre in Casino, was the largest coordinated response this area has ever seen and took considerable resources to achieve," he said.
"The impact of these bushfires on the health and wellbeing of the community is yet to be fully understood. The true extent of damage to property is still being measured, and work being undertaken in the vast State forests and national parks may take months to be revealed.
"It is widely understood the economic impact of a disaster of this scale will be significant and ongoing."
General Manager Vaughan Macdonald said Council was committed to investing in its communities, creating opportunities for new growth and prosperity.
Mr Macdonald said Council's priority was to rapidly rebuild stronger and more resilient communities, focussing on the health and wellbeing of people, repair of property, and restoration of small business, primary producers and the environment.
He said Council's Rebuilding the Richmond Valley – Community Revitalisation Plan was more than just a list of tasks required to clean up after a disaster event.
He said the Rebuilding the Richmond Valley plan identified a range of actions and opportunities to ensure recovery was timely and effective.
"Funding for the projects contained in this plan is anticipated from a range of sources including Federal, State and local governments, State agencies, private charities and private investment or philanthropists," Mr Macdonald said.
Mr Macdonald said Council acknowledged the communities impacted by the fires were already under incredible strain by the persistent drought.
"Already under incredible strain from the persistent drought, intervention is needed now to ensure our towns, which are inextricably linked to the agricultural industry, are able to recover and prosper again," he said.
Mr Macdonald said after being closely involved in the emergency response led by the Rural Fire Service and NSW Police, Council was now actively working to support residents with the task of recovery and rebuilding.
He said Council was working with the affected communities to understand their immediate needs, as well as develop plans for the future of their towns.
He said community meetings had been held and advisory groups established to ensure there was a true collaboration and that the communities could share their valuable input into the Rebuilding the Richmond Valley plan.
"This engagement – and Council's focus on recovery planning – aims to achieve a sense of ownership of this plan by the community," Mr Macdonald said.
"Ongoing engagement with our communities will continue as we support the recovery journey of the Richmond Valley."