The upgrade of the Casino Memorial Swimming Pool is part of Council's ongoing commitment to provide high-quality recreational facilities to the Richmond Valley community.
The existing pool was originally built in 1952 and was extensively refurbished in 1983.
The former pool facility is pictured below: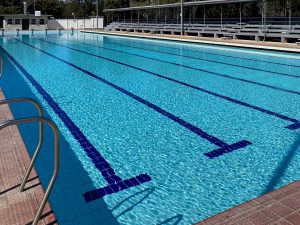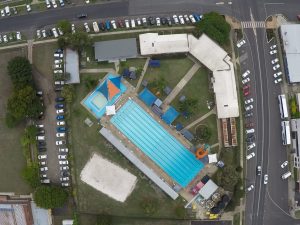 Council is now moving ahead with detailed plans for a full upgrade of the facility to serve the needs of the Richmond Valley's growing community into the future.
Council began working on a concept master plan three years ago, with the first draft put on public exhibition in late 2018, and subsequently refined following public input. The scope of the project has been expanded to deliver what will become a high quality year-round recreational facility for Casino and the Richmond Valley.
Key elements of the master plan are:
Construction of a new eight-lane 50m pool, with new filtration system and heating
Construction of a 25m indoor heated pool to allow lap swimming; also all-age exercise and learn-to-swim classes, with retractable walls and doors for open air use during summer
Construction of a shaded water play space with sprays, fountains, and jets and a shallow splash area to 0.7m deep
Entrance upgrade and paved forecourt
Refurbishment of the existing shower facilities and change rooms, complying with current WHS and mobility access standards including non-slip flooring, new showers and plumbing fixtures
Upgraded gym and new swimming club house
New large twin flume water slide
One key benefit of the new facility will be the replacement of the current 50m pool with a eight-lane heated pool, open for at least 10 months of the year. Pictured below are the concept drawings submitted by the successful tenderer, Facility Design Group Pty Ltd.
From left: southern overall view; north eastern overall view.
From left: splash pad; view from new 50-metre pool.

In 2019 Council secured a $3.2 million grant from the Australian Government to undertake initial works, which will combine with $3.48 million from Council (total $6.68 million) to deliver the first stage of the project. Construction of stage one got underway in August and is expected to take 12 months to complete, weather permitting.
Demolition of the existing pools, concrete concourses, filtration tanks, shade structures and light poles
Construction of a new concrete and tiled eight-lane 50m wet-deck heated pool with an all ability access ramp and stairs
Refurbishment of the existing shower facilities and change rooms
Refurbishment of the existing plant room and the construction of new filtration infrastructure for the 50m pool
Construction of a new concrete and tiled, multi-purpose toddlers and variable depth splash pool
Construction of a new plant room and filtration infrastructure for the splash pool
Relocation of the existing water slide
Shade structures at each end of the 50m pool and over the toddlers/splash pool
New concrete concourses and all ability access ramps
New flood lighting
New electrical switch room
The installation of an electrical substation suitable for the full redevelopment of the swimming centre
Council is continuing to actively seek funding opportunities to complete the entire project.
Upgrade of Casino Memorial Swimming Pool – costs and funding
Estimated total cost of project: $14 million
Committed funding:
$3.2 million – Australian Government
$3.48 million Richmond Valley Council
Total funding committed to date: $6.68 million
STATEMENT OF ENVIRONMENTAL EFFECTS
012 ECM 1674479 V1 Stage 2 Casino War Memorial Pool Amended March 2021171 PAN 86539 Casino Memorial Swimming Pool