Roads are one of Council's biggest priorities, year in, year out.
We recognise that roads are a fundamental bread and butter activity, and if we want to achieve other things for our community, we must ensure our roads are well-managed first.
Council's road network is 1064km long. The task of maintaining these roads has been made more challenging by the devastating floods of 2022, which affected more than 75 percent of our road network.
Council has made the restoration of flood-damaged roads a high priority over the past year and will continue to work hard on the ground and lobbying the government to return our roads to a high standard.
We are passionate about our community and will strive to keep you informed on the progress of these works. This publication will help keep you updated on our major projects and how we go about keeping our roads to an acceptable standard.
Live Traffic NSW now displays local road information from Council's data feeds. The Live Traffic NSW system is designed to support the high traffic load during extreme weather events. This will ensure the system will continue to run smoothly during emergencies.
For the latest traffic information, download Live Traffic NSW for iOS and Android or visit www.livetraffic.com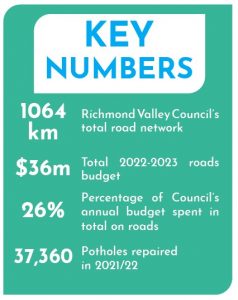 Our Sealed Road Network – 528km
There are six classes of sealed roads in the Richmond Valley:
• State
• Regional
• Arterial
• Collector/loop
• Local collecter
• Local access roads
State roads are the Summerland Way and the Bruxner Highway. State road maintenance is 100 percent directly funded by Transport for NSW with work carried out by Council and contractors.
Regional roads include Woodburn-Coraki Road, Woodburn-Evans Head Road, Casino-Coraki Road, Dawson St Coraki and Bentley Road.
Regional road repairs are partially funded by Transport for NSW which Council allocates according to need. All other road categories are funded and maintained by Council.
Pothole repairs are essential "reactive" work to ensure Council's roads are safe. Council has crews filling potholes every four weeks on all regional roads and rural arterial roads, except for Coraki-Woodburn Road which has weekly repairs
due to high truck traffic.
Repairs occur every six weeks on rural collector roads, and every nine weeks on rural local roads.
Urban street pothole repairs are scheduled every two weeks in Casino, and every six weeks in all other towns.
As Casino is the largest urban area, it requires three times the work to maintain all streets to the same level as other towns.
Heavy patching involves strengthening the pavement with road base and stabilising products. Resealing renews the surface texture and further waterproofs the pavement-wearing surface.
Road reconstructions are the most comprehensive level of roadworks and involve the rebuilding and/or widening of pavements using a mixture of in-situ materials and new
imported materials. It is time-consuming and expensive, but results in an 'as new' pavement.
Our Unsealed Road Network – 536km
There are four classes of unsealed roads, categorised by traffic volumes:
• Category A roads (161km) are graded twice a year
• Category B roads (205km) once a year
• Category C roads (160km) once every two years.
• Catedgory D roads (10km) if required.
Council has two unsealed road grading crews – Casino area and the Mid Richmond. These crews loop around their network every six months.
On each loop, all Category A roads will be graded, half the Category B roads, and a quarter of the Category C roads.
This will continue in a rotating schedule until all Category B and C roads have been graded.
Each year Council will also resheet about 3.5km of the unsealed road network with gravelly clay. This is an expensive process, costing about 25 times more than regular grading,
due to cost of materials.
Report an incident
Richmond Valley Council maintains 1200 kilometres of road network within our local government area. We undertake regular inspections of our road network, including assessing damaged areas to prioritise repair work.
If no incident has occurred and you would like to report a pothole, please complete the Request Action section on the homepage of this website, or phone our 24-hour hotline 6660 0300.
Should you wish to make a claim, Council must establish an injury, loss or damage was caused as a result of our negligence prior to us paying compensation.
When dealing with claims, Council has certain protections from liability under the NSW Civil Liability Act 2002. Accordingly, Council may not be liable for damages arising from potholes and other hazards unless Council was aware of the risk and acted negligently by not addressing the issue.
We recommend you seek professional legal advice if you are unsure whether you can claim for your loss or damage.
Richmond Valley Council is sympathetic to people incurring an injury or sustaining a loss.  However, before we consider payment of compensation, proof supporting your allegation is required that the loss or damage claimed has been caused by negligence on our part and/or our employees or agents.
For a claim to be considered, evidence must be provided to us for consideration. The onus lies on the claimant to provide sufficient evidence or proof to substantiate your claim.
Completion and acceptance of your incident report form does not represent an admission of liability or a waiver of rights on the part of Council. We will investigate the circumstances surrounding the incident to establish whether or not we have any legal liability. Your claim will be subject to investigation and assessed on its merits.
The process of investigation and determination can take up to six weeks. Sometimes there are delays in obtaining information which is beyond our control, such as information required from third parties, contractors or witnesses. We endeavour to respond to claims as quickly as possible, however, claims brought in negligence are often complicated, and we ask for your patience and cooperation during this time.
Please use this Incident Report Form to lodge a claim.
---