Roads are one of Council's biggest priorities, year in, year out.
Here at RVC, we recognise that roads are a fundamental 'bread and butter' activity, and if we want to achieve other things for our community, we must ensure our roads are well managed first.
Council's road network is 1175km long. Managing the effective maintenance of these roads is a challenging task.
Priorities are essential. Roads with more traffic and more wear and tear must be repaired more often than those with less.
RVC's total road budget is around $42 million per year. This funds the repair of some 23,000 potholes, 11,500 sqm of heavy patching, resealing about 33km, reconstructing about 20km, and grading 670km of unsealed roads.
Our staff are as passionate as our residents about maintaining this critical infrastructure for our community.
This information aims to inform you better about what is involved in maintaining the Richmond Valley local government area road network and how decisions and priorities are made.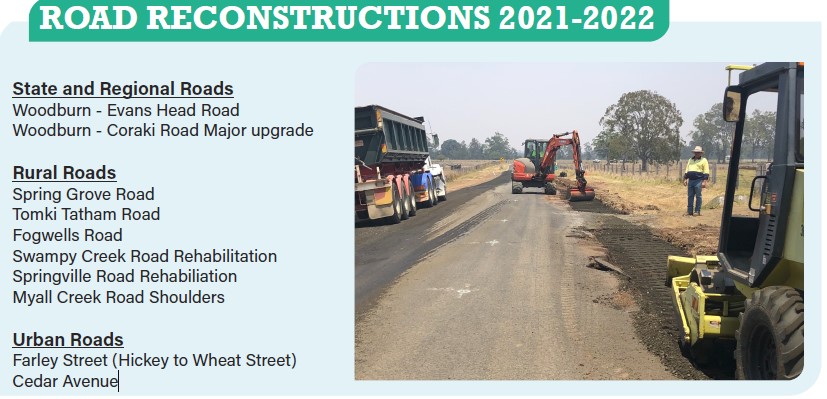 ---
Live Traffic NSW now displays local road information from Council's data feeds. The Live Traffic NSW system is designed to support the high traffic load during extreme weather events. This will ensure the system will continue to run smoothly during emergencies.
For the latest traffic information, download Live Traffic NSW for iOS and Android or visit www.livetraffic.com
---
Report an incident
Richmond Valley Council maintains 1200 kilometres of road network within our local government area. We undertake regular inspections of our road network, including assessing damaged areas to prioritise repair work.
If no incident has occurred and you would like to report a pothole, please complete the Request Action section on the homepage of this website, or phone our 24-hour hotline 6660 0300.
Should you wish to make a claim, Council must establish an injury, loss or damage was caused as a result of our negligence prior to us paying compensation.
When dealing with claims, Council has certain protections from liability under the NSW Civil Liability Act 2002. Accordingly, Council may not be liable for damages arising from potholes and other hazards unless Council was aware of the risk and acted negligently by not addressing the issue.
We recommend you seek professional legal advice if you are unsure about whether you are able to claim for your loss or damage.
Richmond Valley Council is sympathetic to people incurring an injury or sustaining a loss.  However, before we consider payment of compensation, proof supporting your allegation is required that the loss or damage claimed has been caused by negligence on our part and/or our employees or agents.
For a claim to be considered, evidence must be provided to us for consideration. The onus lies on the claimant to provide sufficient evidence or proof to substantiate your claim.
Completion and acceptance of your incident report form does not represent an admission of liability or a waiver of rights on the part of Council. We will investigate the circumstances surrounding the incident to establish whether or not we have any legal liability. Your claim will be subject to investigation and assessed on its merits.
The process of investigation and determination can take up to six weeks. Sometimes there are delays in obtaining information which is beyond our control, such as information required from third parties, contractors or witnesses. We endeavour to respond to claims as quickly as possible, however, claims brought in negligence are often complicated and we ask for your patience and co-operation during this time.
Please use this Incident Report Form to lodge a claim.
---
Northern Rivers Local Government Development Design and Construction Manuals
The Northern Rivers Local Government publications are utilised for the design and construction of civil engineering works associated with development approvals.
Development and Design Manual – Version 3
Construction Manual – Version 3
Standard Drawings – Version 1
The Northern Rivers of NSW is without question one of the most culturally and environmentally diverse areas in Australia.  These qualities have encouraged growth in both residential and industrial development.  Local Government bodies are given the responsibility of managing future growth and development today, hence the goal of this manual "Setting tomorrow's standards today".  Both the community and the development industry should now have clear instructions for development infrastructure requirements throughout the Northern Rivers area.  The industry is encouraged to embrace these guidelines before planning begins, enabling faster and more effective processing of applications through Council.
This Development and Design Manual, initiated by a joint effort between State Wide Roads and the Institute of Municipal Engineers Australia as a more uniform standard throughout the country, has been modified to suit the specific needs of our region.
The following Local Government bodies have accepted the challenge of creating a better living, working and recreational environment for our region.
Ballina Council
Byron Shire Council
Clarence Valley Council
Kyogle Council
Lismore City Council
Richmond Valley Council
This link will direct you to the Lismore City Council website, where the manuals are available for download.
---