Let's get our Scrap Together
Across the Northern Rivers, a new community education campaign; Let's Get Our Scrap Together has been launched to help residents make the most of food and organics recycling.
Plastic Free July

Plastic Free July challenge taken up by more than 3 million Australians
Plastic Free July® is recognised globally as an annual month of global change, where individuals, businesses and governments come together to take action to reduce plastic waste. By sharing ideas, positive actions and stories of change, Plastic Free July helps people and organisations "choose to refuse" single-use plastic every day.
As a Council Member, Richmond Valley Council is actively involved in supporting our community to choose to refuse single-use plastics directly as well as pledging to make a difference by: Providing all new staff ( starting July) with a plastic-free start up kit including; a reusable coffee cup, reusable produce bags, reusable drink bottle and a reusable cutlery set. Educating the community through our social media platforms on ways to refuse and avoid single-use plastics and lastly will be holding workshops around the Richmond Valley on how to make your own Bee's Wax Wrappers and giving away free reusable produce bags.
Together, we can all do our part to help end plastic waste and alleviate the recycling crisis, reduce landfill waste, and mitigate the effects of climate change.
Ready to join the Richmond Valley community in taking the Plastic Free July challenge?
It can be as easy as picking one single-use plastic item to avoid or swap for a reusable alternative.
Many people choose to avoid the Top 4 single-use plastics:
Take-away coffee cups
Plastic shopping bags
Plastic straws
Water bottles
Get started with this Action Picker to browse some popular ideas and make your pledge!
For more information check out the Plastic Free July website.
Love Food Hate Waste
Love Food Hate Waste aims to raise awareness about the impact of food waste in NSW and reduce how much 'good' food we waste.
The program is run by the NSW Environment Protection Authority (EPA) and Delivered in partnership with NSW businesses, not-for-profit organisations, local councils and community groups who share a commitment to reducing food waste.
Here are some great recipe cards for getting creative with leftovers.
Want to get involved?
Teacher lessons plans
---
Weekly Business Food and Garden Organics (FOGO) collection
Richmond Valley is now offering a Weekly Food and Garden Organics collection for all business operators in the Richmond Valley area. This service is a fantastic way to divert food waste from landfill and potentially save your business money.
If your business is interested in a weekly FOGO service please contact the Waste avoidance and collections officer on 02 6660 0300.
---
Waste Wise Schools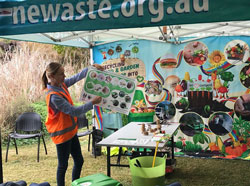 North East Waste and regional councils work together to support schools and teach them about importance of waste management. The Wipe our Waste 'WOW' Van is a mobile educational trailer which promotes sustainable waste practices to schools through interactive and fun waste information sessions held by professional performers. Students will learn how they can actively help their local environment by adopting simple waste-less practices, such as smart-shopping, reducing, reusing, composting and recycling at home, school and play.
School resources
If your school is interested please contact the waste avoidance and collections officer on 02 6660 0300.
---
Second Hand Saturday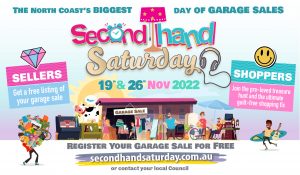 Embrace reuse this year – register for Second Hand Saturday
If Clutter is starting to crowd your living spaces, then perhaps now is the perfect time to get ready for Second Hand Saturday. Council and NEWaste are once again organising the North Coast's biggest day of garage sales, which will be over TWO main event days: Saturday 19 November or Saturday 26 November. Registrations are NOW OPEN!
Coordinator of Second Hand Saturday Linda Tohver said that after so much uncertainty over the last couple of years, it was great to be back on board with this fantastic community event.
"We are so excited to open it up to both weekends giving even more people the opportunity to get involved," she said.
All you have to do is register your garage sale online at www.secondhandsaturday.com.au or by calling Council, and we take care of your free online advertising and promotion.
All registered garage sale listings will appear on the Second Hand Saturday website and the free Second Hand Saturday App, which can be downloaded from the Apple App Store or Google Play.
Click here for participating households.