Let's get our Scrap Together
Across the Northern Rivers, a new community education campaign; Let's Get Our Scrap Together has been launched to help residents make the most of food and organics recycling.
Plastic Free July
Love Food Hate Waste
Love Food Hate Waste aims to raise awareness about the impact of food waste in NSW and reduce how much 'good' food we waste.
The program is run by the NSW Environment Protection Authority (EPA) and Delivered in partnership with NSW businesses, not-for-profit organisations, local councils and community groups who share a commitment to reducing food waste.
Here are some great recipe cards for getting creative with leftovers.
Want to get involved?
Teacher lessons plans
---
Weekly Business Food and Garden Organics (FOGO) collection
Richmond Valley is now offering a Weekly Food and Garden Organics collection for all business operators in the Richmond Valley area. This service is a fantastic way to divert food waste from landfill and potentially save your business money.
If your business is interested in a weekly FOGO service please contact the Waste avoidance and collections officer on 02 6660 0300.
---
Waste Wise Schools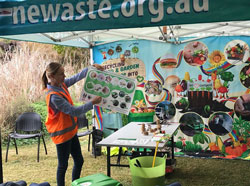 North East Waste and regional councils work together to support schools and teach them about importance of waste management. The Wipe our Waste 'WOW' Van is a mobile educational trailer which promotes sustainable waste practices to schools through interactive and fun waste information sessions held by professional performers. Students will learn how they can actively help their local environment by adopting simple waste-less practices, such as smart-shopping, reducing, reusing, composting and recycling at home, school and play.
School resources
If your school is interested please contact the waste avoidance and collections officer on 02 6660 0300.
---
Second Hand Saturday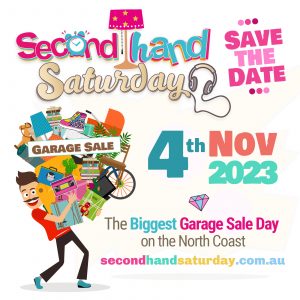 Hold a garage sale this Second Hand Saturday!
Second Hand Saturday – the North Coast's biggest day of garage sales is back again.
Over the past month, Northern Rivers Council's together with North East Waste, have hosted a series of free workshops for Buy Nothing New Month, to encourage reuse and repair over landfill. This year, Second Hand Saturday will conclude these celebrations and be held on one date only – Saturday 4 November.
All you have to do is register your garage sale at Second Hand Saturday | The Biggest Garage Sale Day or by calling Council, and we take care of your free online advertising and promotion.
All registered garage sale listings will appear on the Second Hand Saturday website, local newspaper and FREE Second Hand Saturday App, which can be downloaded from the Apple App store or Google Play.
For more information and registrations visit:
Second Hand Saturday | The Biggest Garage Sale Day
---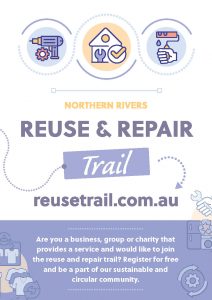 Northern Rivers Reuse and Repair Trail
Boost your business, attract new customers, and help save the planet by joining the FREE Northern Rivers Reuse and Repair Trail.
The Reuse and Repair Trail is an online hub for the community, including savvy eco-conscious consumers, to seek out businesses and organisations that provide reuse and repair services.
The hub includes a directory and map of Northern Rivers-based businesses and organisations that are actively avoiding waste, encouraging repairs, and/or providing reusable options.
You can list your business or organisation on the trail site for FREE, including a description of your services and a link to your own website.
The Northern Rivers Reuse and Repair Trail is an initiative of North East Waste and its member councils. It will be launched in the week surrounding International Repair Day (October 23) but will be regularly updated as businesses and organisations continue to join.
There is no catch – we simply want to help the planet! The Northern Rivers Reuse and Repair Trail is designed to support the principles of a circular economy – that means shifting from our current linear model of 'take, make, break, dispose' to designing out waste and pollution, keeping products and material in use, and regenerating natural systems.
If your business or organisation promotes reuse and repair, you're already contributing to a circular economy. Now, you can let more people know about your good work by joining the Northern Rivers Reuse and Repair Trail.
List your business here for free www.reusetrail.com.au