We are a COVID-safe business.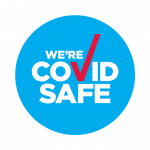 We have a COVID-19 Safety Plan and are committed to keeping you safe through physical distancing, hygiene and cleaning, record keeping, and considering the wellbeing of staff and customers.
Richmond – Upper Clarence Regional Libraries are community spaces where everyone can share the excitement of discovery. Whether you're a resident or visitor, you can read for pleasure, study, meet new people, get online, learn a new skill or share your interests with others.
Library collections include popular and literary fiction, non-fiction, magazines, newspapers, large print, audiobooks, DVDs, CDs, local history and legal information. Members can borrow and return items at any of our branches in Casino, Coraki, Evans Head and Kyogle, or the Mobile Library. There are also thousands of items in our eLibrary, available to you from the comfort of home or anywhere you have internet access. And best of all, membership is free!
The library is financed by Richmond Valley Council, Kyogle Council and State Government subsidies.  The Regional Library has an ongoing commitment to provide high quality services to the communities of the region.
If you've been to visit one of our libraries, we'd love to get your feedback. You can tell us what you think here.