On the back of funding support from the NSW State Government, Council successfully completed two exciting new projects for Broadwater in 2018-2019, helping improve the town's amenities for residents.
These projects were both completed thanks to combined $1.13 million in funding from the NSW Government.
Broadwater Shared Pathway
Following funding being awarded by the NSW Government under the Active Transport Program, construction of a shared pathway including drain crossings, structure and accesses from Broadwater town to the end of Broadwater Beach Road was completed by local contractor, NRC Group Pty Ltd.
Below: The initial section of shared pathway through the township of Broadwater:
Below: The final section of shared pathway near the junction of Broadwater-Evans Head Rd and Broadwater Beach Rd: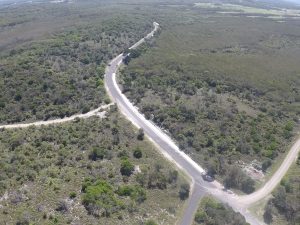 The  works were completed by local contractor NRC Group Pty Ltd. Construction started on the shared pathway in early April 2018 and the full project was completed by November 2018.
A section additional to the initial project scope is yet to be completed as part of the Pacific Highway upgrade.
Broadwater Memorial Park
The Broadwater Memorial Park was envisioned as a focal point for the community and included the upgrade of BBQ shelters, a new youth play space featuring a basketball semi-court and skate park, drainage upgrade and toilet renewal.
Below: The basketball court and skatepark at the Broadwater youth space and community park.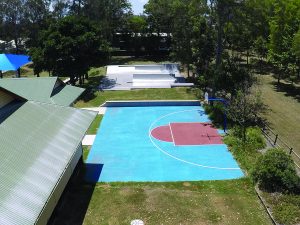 Final stage 
The final element of the community park project was the installation of adventure playground equipment.
In May 2020 Council received $107,315 from the NSW Government through round three of the Stronger Country Communities Fund for the new playground features, which include a six metre high rope climbing net, a blazer, rope hammock and net twister.
Installation of the new play spaces was completed in October 2020.
This project was the final element of the Broadwater Rileys Hill Community Hall and Memorial Park Redevelopment Plan.