Call of Empire by Peter Watt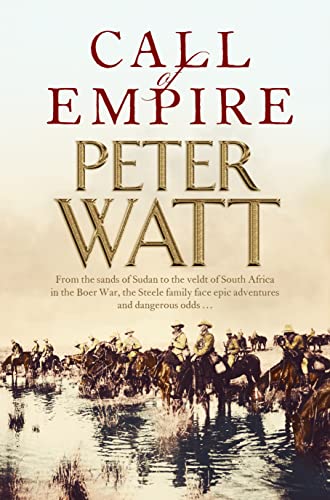 This is Volume 5 of the Ian Steele series or the Colonial series.
Call of the Empire continues the story of the Steele family and the different characters engaged with the harsh realities of war while others deal with the issues of home in a still very  young Australian colony. The storyline involves fighting for the British Empire in the Sudan and Boer Wars and the Boxer Rebellion. You do become quite familiar and attached with the characters in his books.
Peter releases a book each November and I am looking forward to the next the book in this series which I am sure will involve Gallipoli and the Western Front. I can usually finish one of his books in 2 days. These are very enjoyable books to read and while they are fiction they also teach us about some of Australia's history that we may not be so familiar with. This usually sparks some interest for me and I find myself reading more about that period in Australia's history.
I have read and enjoyed all of Peter Watt's books which are Australian historical adventures.  His very first book was Cry of the Curlew which I first read back in 2000. I have also had the pleasure of hearing Peter talk at a conference I attended.
This book could be read as a stand-alone title but to get a real feel for all the characters and the family connections, I would recommend reading them in sequence.
The Queen's colonial
The Queen's tiger
The Queen's captain
The colonial's son
Call of empire
As with all Peter Watt's books – ⭐5/5