The Woodburn-Coraki road is under increasing strain from heavy traffic associated with the construction of the Pacific Highway.
The Council-owned Peterson's Quarry and the adjoining, privately owned, McGearys Quarry at Coraki were identified as the southern-most deposit of high-grade basalt rock to be used on the Woolgoolga-Ballina section of the highway upgrade.
Quarry Solutions took possession of the quarries in 2015 and under existing approvals they can extract 1.3 million tonnes of blue metal per year for the duration of the Highway upgrade. With annual extraction limits of 1.3 million tonnes, all transported in 33 tonne loads by truck and dog combinations to the Pacific Highway, the Woodburn Coraki Road is experiencing extraordinary traffic loads far more than what it was originally designed for.
It is a key route for local and regional travellers and it is expected the 19km length will need significant work over the next six years at an estimated cost of $19 million. Council continues to investigate ways of funding the reconstruction of this road.
Works completed – and more to come
Council has already completed $2.4 million worth of work on two sections of the road identified as a high priority for renewal
In 2019-2020, Council will contribute another $2 million from heavy haulage contributions and has applied for $3.1 million under NSW Governments Fixing Country Roads Program.
If successful in obtaining this $3.1 million grant funding, Council will be able to construct the next two sections identified as high priority.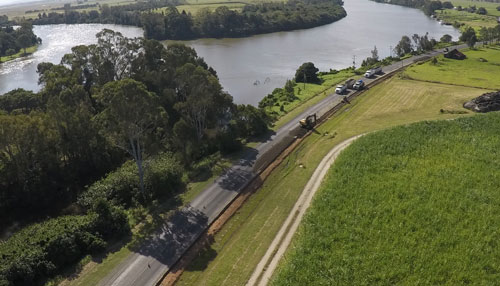 Start of work on 1.7km section of the Woodburn Coraki Road May 2018