Given the global situation with COVID-19, Richmond Valley Council is taking measured precautions to ensure staff and the community are kept safe, closely following any advice provided by the Federal and State health authorities.
Easing of restrictions
On Friday 15 May, the NSW Government implemented Step One of of the National Cabinet's three step timeframe for returning to normal economic activity.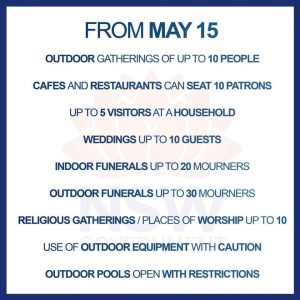 As a result Council has reopened the following facilities:
Outdoor gyms, playgrounds, picnic tables and barbecues.
The Evans Head swimming pool. Please note, changing rooms remain closed and the pool is limited to 10 people at a time in accordance with the above requirements.
Public gatherings are also limited to 10 people and this applies to all outdoor areas.
Waste facilities have also returned to business-as-usual operations
The Nammoona Waste and Resource Recovery Facility in Casino commenced normal operations from Monday 18 May.
The Nammoona Tip Shop reopened on Wednesday 20 May. Due to limited space, numbers at the Tip Shop will be limited to maximum of five people at any one time.
The Evans Head Transfer Station commenced normal operations from Wednesday 20 May.
Restrictions on gatherings and social distancing will still apply and customers are asked to follow the directions of staff.
Richmond Valley Council's customer service centres, saleyards, treatment plants and animal shelter are also open for business and have remained open throughout the COVID-19 restrictions period.
Due to the social distancing restrictions, only essential staff, agents and registered buyers are permitted entry to the NRLX.
What's closed
Council has made the difficult but prudent decision to temporarily close the following facilities to ensure the safety and wellbeing of staff, volunteers and residents.
All Library branches including the Mobile Library. To substitute for branches being closed, the Library has introduced a reserve and collect service. Click here for more details.
Visitor information centres in Casino, Evans Head and Woodburn
Casino Indoor Sports Stadium
Casino Community & Cultural Centre
Council events and Council-run public programs have also been postponed or suspended until the situation is reviewed again on Sunday 14 June, as per the Public Health (COVID-19 Public Events) Order 2020.
Information for Households
Information for Businesses 
The Australian Government is rolling out comprehensive targeted assistance to support small and medium sized businesses in response to the pandemic.
Call the business.gov.au hotline on 13 28 46 to speak with a specialist adviser about what support is available. Open seven days a week from 7am-11pm AEST.
For more information visit business.gov.au.
Protecting against COVID-19
According to NSW Health, the best way to protect yourself is the same as you would against any respiratory infection. Practice good hygiene by:
Making sure to clean your hands thoroughly for at least 20 seconds with soap and water, or an alcohol-based hand rub
Cover your nose and mouth when coughing and sneezing with tissue or a flexed elbow
Avoid close contact with anyone with cold or flu-like symptoms.
Make sure you stay home if you are sick.
Mental Health Support
Support is available right now for anyone struggling with their mental health. MindSpot is a free online mental health clinic provided by the Australian Government for adults who are experiencing difficulties with anxiety, stress, depression, and low mood.
Web: www.mindspot.org.au
Phone: 18https://mindspot.org.au/00 61 44 34
Need urgent 24/7 support? Call Lifeline on 13 11 14.
A comprehensive list of free mental health options is available here: COVID-19-Factsheet-ManagingYourMentalHealth
External Links
Please visit the NSW Health website for more guidelines on social distancing and health safety:
The Australian Government Department of Health also contains essential information on current restrictions and safety guidelines: