The Hitler Years: triumph 1933-1939 by Frank McDonough

The Hitler Years: disaster 1940-1945 by Frank McDonough
Available as  eAudiobooks on Libby.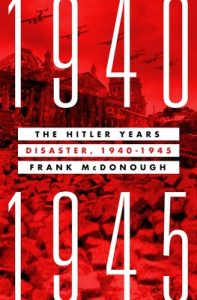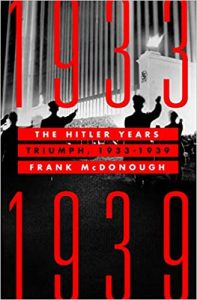 The Hitler Years – Triumph 1933-1939 (16 hours) by Frank McDonough.  On 30 January 1933, Adolf Hitler was appointed the German Chancellor and within a few months he had installed a dictatorship, jailing and killing his leftwing opponents, terrorising the rest of the population and driving the Jews out of public life. This first volume covers Hitlers rise to power and ends with his military defeat of Poland in 1939. This is an interesting account of this time in  German history and the leadup to the 2nd World War.
The Hitler Years : disaster 1940-1945 (23 hours) by Frank McDonough  This is the second volume that deals with the rise and catastrophic fall of the Nazi regime. At the beginning of 1940 Germany was at the pinnacle of its power. By May 1945 Hitler was dead and Germany had suffered a disastrous defeat. This volume discusses his early successes and his invasion of the Soviet Union before his defeats on the Eastern Front and the allies landing in Normandy. The brutality of the German and Soviet soldiers is hard to imagine plus the death tolls are unbelievable.
This was very entertaining and if you are a history buff who is interested in facts about wars then you will enjoy this.  Both volumes give a year by year examination of Hitler's rise to power, his successes before his military disasters that lead to his downfall.
Great to listen to you if you are travelling
Highly recommend – 5 stars