Eleven bats by Anthony "Harry" Moffitt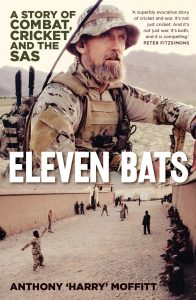 I recently attended a Library Conference in Albury and Anthony Moffitt was one of the speakers who spoke to us about the power of working in teams. He spoke about the book that he had written and I was very pleased that we had a copy in the library and by using the library app was able to reserve the book while I was at the Conference. It was waiting for me when I returned to work.
Anthony "Harry" Moffitt spent more than 20 years in the SAS and he toured Afghanistan, Iraq and East Timor. But his big love was cricket, particularly backyard cricket and while on tours with the SAS he was continually organising games of cricket. On each of his eleven operational tours he bought a bat to play a game. Cricket was a great way to ease the tension before and after some of their operations.
Each of the bats has a story and a chapter dedicated to it. The bats are signed by people he met or fought alongside.
He writes about the tension and toll war takes on the soldiers and their families and how a game of cricket helped with their mental health.
At the Conference he spoke about the cover of the book and the photo of this particular game of cricket being played in Afghanistan. Hours later the soldier who took the photo was killed and the bowler lost a leg.
A very enjoyable read
⭐4.5/5