Council is committed to revitalising and maintaining the 80-year-old Casino Civic Hall. The locally famous art deco hall will return to its former glory as Casino's performing arts and culture hub.
The first stage of the revitalisation project was completed in February 2019. Stage 1 has already received plenty of positive feedback with many event organisers eager to book the facilities for cultural events. Further development of Casino Civic Hall will increase opportunities to attract and support art and cultural activities and events in Casino, ensuring the beloved venue remains a central part of Casino's social life.
What we have delivered in 2019:
Wall mounted fans
Restoration of art deco lighting on ceiling and pillars
Electrical upgrade
Replaced joints, bearers and flooring in the main hall area
Under-stage flooring for storage of new chairs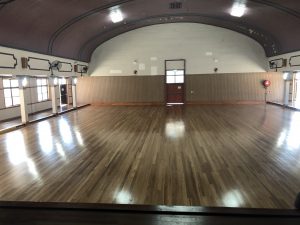 Coming up next in 2020:
Adoption of Casino Civic Hall Restoration Masterplan
Internal painting
Purchasing of new chairs with electric chair trolley
Stage flooring
History
The Casino Civic Hall was designed by two architect firms prepared by Messer RC Ash and WB Gilbert in 1935. The hall was originally designed to be part of the Council Chambers on Walker Street. The development was to include other buildings such as public offices, administration office, committee room and five shops divided by an arcade. The development was to extend to the rear of the site where a large dance and public hall was to be erected becoming the Civic Hall precinct accessible through Simpsons Lane, however the hall had to be relocated to the current Canterbury Street site to comply with the chief secretary's regulations regarding the mandatory street frontage.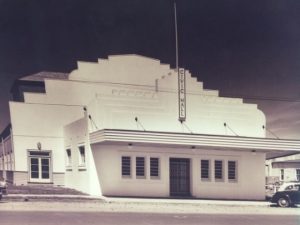 The Casino Civic Hall was built by J Schmitzer in 1937. The building was constructed in the art deco style with outstanding features such as the arch ceiling, modernistic stage, chromium plated section strips used across the ceiling and maple panelling. The seating was arranged in a semi-lodge plan on a raised platform.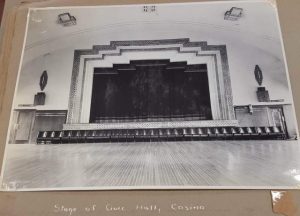 Civic Hall master plan – from 2020 and beyond
Council engaged architects from STEA to prepare a draft restoration master plan for the development of the site, using information complied from community meetings and feedback. The consultant team included the following disciplines;
Architect
Theatre Consultant
Acoustic Consultant
Structural Engineer
Mechanical Engineer
Electrical Engineer
Hydraulic Engineer
Building Surveyor
Quantity Surveyor
The draft master plan is scheduled to go to Council for adoption early 2020.