On the back of funding support from the NSW State Government, Council successfully completed two exciting new projects for Broadwater in 2018-2019, helping improve the town's amenities for residents.
These projects were both completed thanks to combined $1.13 million in funding from the NSW Government.
Broadwater Shared Pathway
Following funding being awarded by the NSW Government under the Active Transport Program, construction of a shared pathway including drain crossings, structure and accesses from Broadwater town to the end of Broadwater Beach Road was completed by local contractor, NRC Group Pty Ltd.
Below: The initial section of shared pathway through the township of Broadwater:
Below: The final section of shared pathway near the junction of Broadwater-Evans Head Rd and Broadwater Beach Rd: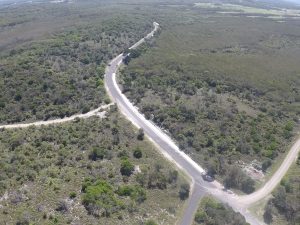 The  works were completed by local contractor NRC Group Pty Ltd. Construction started on the shared pathway in early April 2018 and the full project was completed by November 2018.
A section additional to the initial project scope is yet to be completed as part of the Pacific Highway upgrade.
Broadwater Community Park
The Broadwater community park was envisioned as a focal point for the community and included the upgrade of BBQ shelters, a new youth play space featuring a basketball semi-court and skate park, drainage upgrade and toilet renewal.
Below: The basketball court and skatepark at the Broadwater youth space and community park.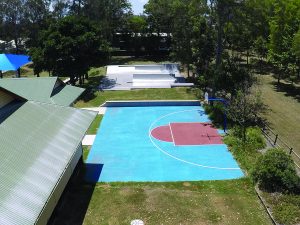 Looking ahead
The next planned element of the community park project is the installation of adventure playground equipment.
Council will continue to assess internal and external funding opportunities to complete this stage.