Partnership delivers Richmond Valley Christmas hope to those who most need it
Two Casino Momentum Collective projects will soon go ahead in Casino thanks to substantial Nationals in NSW Government funding, Clarence Nationals MP Chris Gulaptis announced at the not for profit's site on Thursday.
Momentum Collective is regional-based not-for-profit business running programs in disability, mental health, homelessness, social and affordable housing, family and domestic violence, child family and community services.
"This is exactly the type of organisation the Government likes to fund in order to get resources to those who most need them, and we created the Nationals' signature Stronger Country Communities Fund for just this purpose," Mr Gulaptis said.
"We're providing $249,000 from the Fund for Momentum's Casino Oak Centre Community Accessibility Project."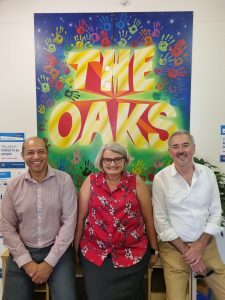 According to Momentum Collective's CEO, Dr Tracey Mackie, the funding will be used to upgrade the centre to encourage greater community participation through outdoor play equipment and furniture, a yarning circle, vegetable gardens and trestle tables for group work.
"Renovating the bathroom and making them more accessible, installing air-conditioning and upgrading security will also provide much needed higher standard amenities and safety for the centre", said Dr Tracey.
Mr Gulaptis said the Nationals in NSW Government had also chosen the Momentum Collective as one of a select group of partners to benefit from a recent $50 million expansion of the NSW Community Housing Innovation Fund.
"We are delighted to help the organisation with $1.7 million to enable them to build ten new social housing units across Northern NSW, with a specific focus on housing for women over the age of 55, rough sleepers and people with disability."
Momentum Collective Chief Executive Officer Tracey Mackie said it is a positive outcome for our local communities which will allow the organisation to acquire an additional ten homes across the region.
"With the waitlist exceeding ten years in many areas, this initiative is desperately needed and shows an acknowledgment of the housing crisis we are facing in the area," Dr Mackie said.
"At Momentum Collective, we believe that every person in Australia, no matter their situation, should have access to a safe and suitable place to stay.
"This is difficult to achieve within our footprint due to the critical shortage of housing and the current housing affordability crisis. The fund won't solve the problem, but it is a step in the right direction."
Mr Gulaptis also inspected eight new affordable housing units at 115 Centre Street Casino, including one disability accessible property.
Momentum Collective's Director of Property and Housing, Mark Edwards said the housing development was intended to provide a welcome boost to affordable housing stock in Casino and will support employment of construction workers in the region.
"We know that many people working in key industries in Casino are finding it increasingly difficult to access affordable housing in the private rental market. Momentum Collective is committed to working on solutions to increase housing stock that is accessible to people on low and medium incomes. We believe strongly that access to good quality, affordable housing is fundamental to people's wellbeing," he said.
The new affordable housing units are expected to be completed next February, with Momentum Collective now calling for Expressions of Interest for prospective tenants.
The Stronger Country Communities Fund is part of the Nationals in NSW Government's $2 billion Regional Growth Fund, which alongside the $4.2 billion Snowy Hydro Legacy Fund is delivering infrastructure and programs that generate opportunities, investment and jobs.
For more information, go to: www.nsw.gov.au/SCCF.