Three more community projects will go ahead in the Richmond Valley thanks to a new round of Nationals in NSW Government grants totalling a little over half a million dollars, Clarence Nationals MP Chris Gulaptis has announced in the company of re-elected Richmond Valley Mayor Robert Mustow.
"This Stronger Country Communities Program is a signature Nationals initiative reserved for regions outside Sydney like ours," Mr Gulaptis said.
"I congratulate Mayor Mustow and his Council on three more excellent funding applications that have yielded exactly $516,463 on this occasion."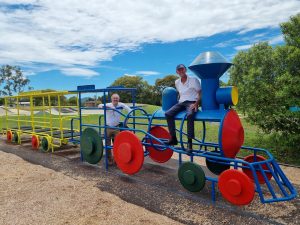 Mayor Mustow said Council would invest the funds to further improve the play space at Casino's Crawford Square Regional Park; upgrade play areas at Coraki Swimming Pool, and pay overdue tribute to local Indigenous heritage by adding traditional custodian acknowledgements to Richmond Valley's town entry signs.
"Council is pleased to be working with Chris and his Government to help us deliver these community projects," Cr Mustow said.
The Stronger Country Communities Fund is part of the Nationals in NSW Government's $2 billion Regional Growth Fund, which alongside the $4.2 billion Snowy Hydro Legacy Fund is delivering infrastructure and programs that generate opportunities, investment and jobs.
For more information, go to: www.nsw.gov.au/SCCF.
See details below for further information about each project.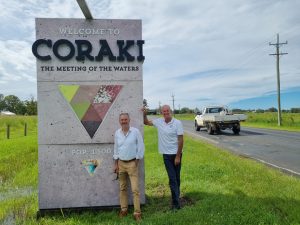 CORAKI SWIMMING POOL WATER PLAY SPACE PROJECT ($212,500)
The creation of an inclusive water playspace at Coraki Swimming Pool will deliver exciting water-based play elements for children of all ages. This project will provide a safe, low-cost, active water feature for families in the Richmond Valley, and greatly enhance the limited facilities currently at Coraki Pool. The new water playspace will include a zero-depth splash pad area with a variety of water play elements, encouraging inclusive and interactive play for toddlers and children to enjoy.
UPGRADE OF RICHMOND VALLEY'S TOWN ENTRY SIGNS ($55,000)
Upgrade the existing town entry signs in Casino, Coraki, Evans Head, Broadwater and Woodburn, to pay respect to and acknowledge the traditional landowners in the Richmond Valley Council Local Government Area.
REVITALISATION OF COMMUNITY PLAYSPACE AT CRAWFORD SQUARE REGIONAL PARK ($248,963)
Casino's Crawford Square Regional Park will be revitalised with an inclusive farm-themed play space for the community, with play activities for all ages and abilities. The area will encompass a climbing structure and slide for older children, a junior play space, a double-bay swing set, and inclusive elements such as a tipi carousel and jumper square, providing a safe space for children to explore, create and develop. The new centralised playspace will attract a wider demographic, including tourists, boosting engagement at his already popular park.