THREE Richmond Valley residents have been recognised for their contributions and achievements at the official Richmond Valley Australia Day celebrations at Coraki Memorial Park on Tuesday 26 January.
Council would also like to recognise the following nominees: Sky-Maree Oldham, Ella Keep, Connor Turner, Paul Cowles, Michelle Pagotto, Trish Brims and Gwendolyn Gray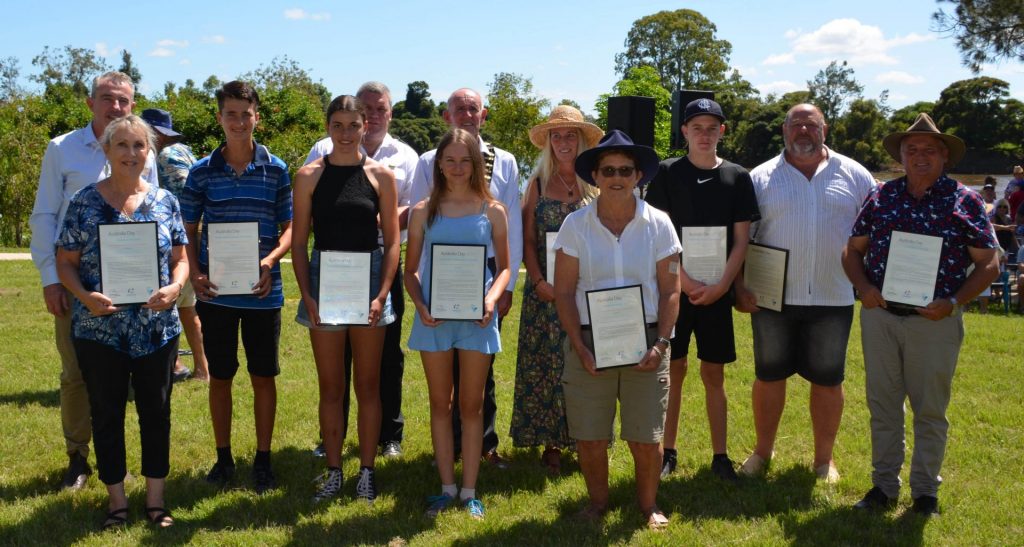 CITIZEN OF THE YEAR
Paul Bengtson
Paul was nominated for his impressive record of service to the community, which includes local swimming, the Casino Men's Shed, Casino Legacy, and St Mary's Parish Parents and Friends Association. Through these organisations, Paul has given generously for more than 15 years.
Paul is a life member of the Casino Amateur Swimming Club. It was his dedication, leadership, calm, and professionalism which helped steward the club through a period of low membership to become the healthy powerhouse it is today, with 130 children attending each week during the season and a full committee.
During his 15 years of service to the club, Paul has been president for eight years, vice president for a year and treasurer for a year. His children finished swimming long ago, but he had an unwavering commitment to young people in his community and a deep set desire that the club wouldn't fold due to its inability to form an executive committee. The club has since grown from strength to strength.
Paul has enhanced his knowledge of swimming and is now a technical officer. With this skill he attends swimming carnivals across the Northern Rivers as a judge of stroke. He is also the Meet Director of the swimming carnivals held by the Casino Amateur Swimming Club.
Pre COVID, Paul assisted regularly with the club fundraising activities and is part of a small group which runs raffles at the Charcoal Inn not only for the swimming club but for the charity club associated with the hotel.
You will find Paul at the pool every Thursday night, after spending Monday, Tuesday and Wednesday at the Casino Men's Shed.
Paul has been a volunteer member of Casino Men's Shed for eight years. He is present the three days each week the Casino Men's Shed is open, and leads and encourages other members to be actively involved. He worked with Council to coordinate the shed fit out and attends fundraisers for the Men's Shed to help keep it running – providing a place for people to have a social connection. Fundraisers include attending Bunnings sausage sizzles, Northern Rivers Drag Racing days, raffles, Casino Christmas Street Party and the Rappville Christmas celebration after the bushfires in 2019.
Paul has also been involved with Casino Legacy as a legatee for 10 years. Legatees work directly with Legacy families to provide support and friendship to ensure Legacy's promise to care for the families of deceased or seriously injured veterans is kept.  Paul is dedicated to caring for the welfare of widows and he is always aware of their needs, whether they be of a practical or emotional nature.
Paul's longest volunteer service is the St Mary's Parish Parents and Friends Association. During his service he was President from 2006 through to 2015 and Treasurer from 2017 through to 2021. Paul has happily assisted with events at a school level from speaking at parent information evenings, running barbeques, delivering the parent address at senior graduation formals and more. Through his service to the school, and more importantly the children, he epitomises community spirit and service.
As you can see, Paul embodies community values and civic pride. His involvement is diverse and reaches all age groups. This nomination honours his selfless giving.
­VOLUNTEER OF THE YEAR
Stuart Holm
Stuart is a wonderful advocate of the beautiful Coraki. He volunteered his time to the Healthy Towns Challenge working with others to create activities and resources which made healthier eating and physical activity easier in Coraki.
Stuart has volunteered for the local SES for two years and gave many hours to the community during the 2019-2020 bushfires. Stuart has received a service medal from Defence and a commendation from the NSW Premier for his contributions during the bushfires.
Stuart assists with community engagement encouraging others to get involved with town happenings. Stuart often puts his hand up to help with events, including marshalling for the boat races along the river.
YOUNG SPORTSPERSON OF THE YEAR
Lachlan Coe
Lachlan has excelled in both softball and baseball over the past two years, which has seen him grow into a wonderful sportsperson and gain selection at a national level within his age group.
Lachlan was selected to play for the Australian softball team in the under 14s International Friendship Series. He was selected after competing in the national championships in Canberra where he played for NSW Country. Recently Lachlan was named in the NSW state squad for national competition for 2021.
Last year, Lachlan was selected to play baseball for NSW after trialling for NSW Showcase, which is a pool of up and coming baseballers in the state. This achievement would have seen Lachlan compete at an international level in America – an amazing feat for a young rural kid. Due to COVID the team is currently on hold. The past two years Lachlan was named the Most Valuable Player for Lismore Workers Baseball Club in the Far North Coast division and was awarded the Baxter Medal for player of the year.
Lachlan also plays many other sports and is an all rounder and loves his sport, from softball, baseball, netball, basketball, cricket, swimming and fishing. He trains hard and is self-motivated to be better each time he plays; he often has to train by himself as his team mates are metro based.
Lachlan puts back into his sport by umpiring, coaching and inspiring juniors. In 2020 Lachlan was the assistance coach of the division two women's softball team in the Far North Coast competition, which he is enjoying.
Lachlan is achieving at a local, state and national level through a strong desire to achieve. Through all this and whilst still at school, he still finds time to give back and help grow softball and baseball locally.