RICHMOND Valley Council is reassuring residents it is taking sensible measures to keep essential services operating.
General Manager Vaughan Macdonald said there would be no disruption to core Council services to the community.
Mr Macdonald said Council's customer contact centres in Casino and Evans Head would remain open because they are considered essential services, as would the NRLX, waste facilities, treatment plants, cemeteries and the animal shelter.
However, Mr Macdonald said as of yesterday all public swimming pools, library branches, including the mobile library, and the Tip Shop would close until further notice. *Update – playgrounds, exercise equipment, skate parks and public BBQ facilities are temporarily closed.
"This is not a decision we have taken lightly but it is a sensible precaution to take in this fast-evolving pandemic," he said.
"We know and appreciate these community facilities are well loved by residents but the action is necessary in order to slow the spread of COVID-19.
"Our facilities are visited by hundreds of people each week, who are in relatively close contact. It is on this basis we believe a temporary closure is the prudent thing to do."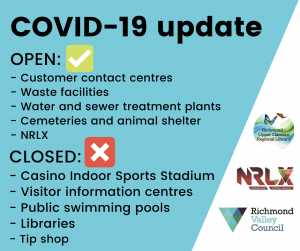 Library services
The Richmond-Upper Clarence Regional Library has extended the loan period to 42 days and the limit to 30 items per person. The Library is also investigating a reserve and collect service. People can reserve items via the Library's website, or by using the new Library app.
Please call 6660 0250 or email enquiries@richmondvalley.nsw.gov.au to find out more about this service.
The Library also has a great range of eResources available including eBooks, eAudiobooks and Beamafilms, which are all available from https://richmondvalley.nsw.gov.au/community-services/libraries-2/ or the Library app.
Minimising face to face contact
Mr Macdonald is asking residents to consider their need for face-to-face contact with Council staff.
He said Council's 24-hour hotline – 6660 0300 – was fully operational, with all enquiries handled by experienced staff.
He said there were also a number of ways residents could pay their rates and charges online, such as using Australia Post's online facility, or a financial institution's BPay service.
He said sending an enquiry to council@richmondvalley.nsw.gov.au or via the website https://richmondvalley.nsw.gov.au/contact/ were also options, including for those needing to lodge development applications.
"We remain very much open for business and our support services like building inspections continue to be available," Mr Macdonald said.
"All our building certificates are online. Just fill them out and email to Council. A Customer Service officer will contact you for payment details. You can even pay invoices such as those due for development applications."
Developers, consultants, business owners, builders, and homeowners are encouraged to contact Council's Development Concierge service.
Mr Macdonald said those who needed to visit the customer contact centres were asked to please observe the safety measures in place.
These include:
using hand sanitiser provided prior to engaging with counter staff; and
observing the taped-off areas to encourage social distancing.
"These measures are to ensure the health and safety of both staff and residents, and we thank you for your cooperation," he said.
UPDATED 6 APRIL 2020
Caravan Parks
Under NSW public health orders, caravan parks and camping grounds must not be open to members of the public EXCEPT for the purposes of accommodating:
Permanent residents of the caravan park or camping ground;
Overnight travellers;
People working in the local area;
Other people who have no other place of permanent residence, or whose primary place of residence is temporarily unavailable; and
Visitors to the people set out above.