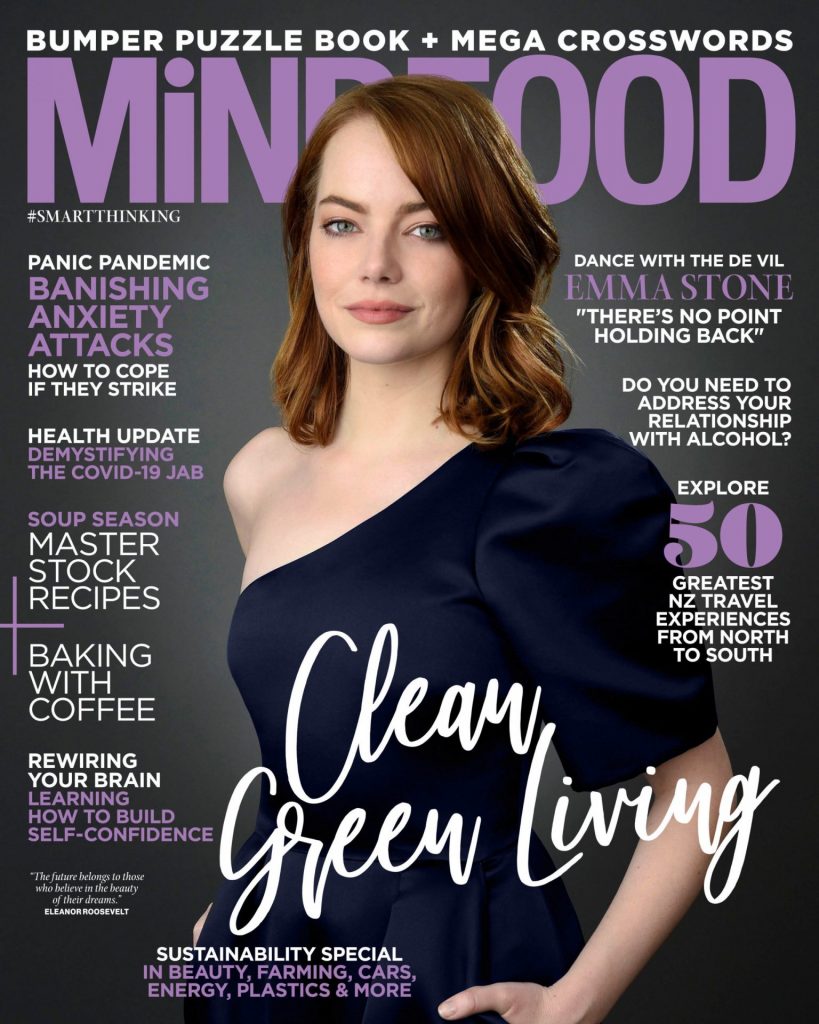 MiNDFOOD Magazine – June 2021 issue
Reserve a copy of Mindfood here.
MiNDFOOD carries the hashtag #SMARTTHINKING with good reason – the articles and featured content are always topical, interesting, and informative, often covering serious issues without being too technical.
The June 2021 issue is a "Clean Green Living" edition and contains some great articles on sustainability, as well as on the Covid-19 vaccines, problems with alcohol, Imposter Syndrome, a wonderful New Zealand travel special, a feature on the actress Emma Stone, great recipes, and much more.
I thought that the articles in the Sustainability Special section would be rather dull and dry, but I actually found them particularly interesting and thought- provoking. The article topics included:
Microplastics – this article I found particularly interesting – about a 20 year old science student and inventor who won the grand prize in the 2019 Google Science Fair for his brilliant creation to extract microplastics from the ocean. Inspiring.
Clean energy – the production of green hydrogen as an option for powering large transport vehicles including buses, trucks, ships, and even aeroplanes.
Electric cars – eco-friendly driving.
Green homes – using sustainable building design to improve homes and buildings for the future health of people and the planet.
Bird rescue – new research that is helping to increase the survival of baby birds faced with predation in New Zealand.
I would recommend the current edition of MiNDFOOD Magazine to anyone who cares for the future of our planet, and is interested in reading about some of the efforts and creative inventions that are aiming to improve the sustainability of our planet Earth.
If this doesn't appeal, then other issues of MiNDFOOD cover a multitude of topics that most likely will!
Reviewed by Cheryl Thompson, Kyogle Library Assistant.