Elections for Richmond Valley Council councillors
Local government elections will be held on 4 December 2021.  Elections were originally scheduled to occur in September 2020, however, have been delayed on two occasions due to the COVID-19 crisis.
The decision was made following extensive consultation with and on advice from the NSW Electoral Commission and NSW Health.
In an effort to ensure the elections are not postponed again, the NSW Electoral Commission, NSW Government and NSW Health are working to implement a comprehensive plan to allow voters to cast their ballot safely in December. This means iVote (electronic voting) will be available for the first time in local council elections.
Current Councillors will continue to hold their positions until the December election.  The next round of ordinary local government elections will still proceed in September 2024.
The NSW Electoral Commission conducts local government elections and the following information will be updated closer to the date:
Pre-poll and postal voting
Polling locations
Nominated candidates
Information for candidates
Returning officer
Check your enrolment here and you can also follow the NSW Electoral Commission on Facebook or Twitter.
---
NSW Electoral Commission work opportunities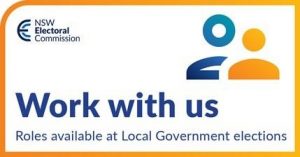 Expressions of interest are now open to work at the elections in December. Working at an election is a great way for members of the community to earn money, learn new skills and deliver democracy by helping people to have their say. There are positions available during the election period and on election day itself. More information, including position descriptions, pay rates, and the link to apply, can be found at website
---
Frequently Asked Questions
Is Richmond Valley Council the contact for NSW local elections?
Council is not the contact for NSW local elections, it is the NSW Electoral Commission.
For enrolment, voting and general enquiries call 1300 135 736
For candidate, funding disclosures and compliance enquiries call 1300 022 011
Who is the Returning Officer?
As part of a resource sharing initiative, Richmond Valley Council will share a Returning Officer with Clarence Valley Council.
The Returning Officer will be located at 44 River Street, Maclean, for the nomination period, being 25 October to 12 noon Wednesday 3 November.
For further enquiries, contact clarence@ro.elections.nsw.gov.au
---
Useful Documents
Thinking of becoming a councillor?
Candidate information for Aboriginal and Torres Strait Islanders
Candidate information for people from culturally and linguistically diverse backgrounds