RICHMOND Valley Council will increase ranger patrols from the start of the September school holidays as part of a broader strategy to address complaints of anti-social behaviour and traffic offences along the beach by some 4WD users.
Alongside a heightened presence of rangers, Council will also conduct an education campaign and review its beach signage to ensure beach rules and speed limits are clear.
General Manager Vaughan Macdonald said the decision follows extensive community consultation over a proposal to introduce beach permits for 4WD users of the beach from Broadwater to Evans Head.
Mr Macdonald said while submissions on the permit system were divided, more than 50 percent of submissions indicated there was a problem with poor behaviour on the beach, be it driving offences or anti-social behaviour.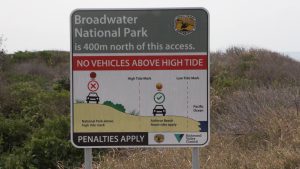 He said the community had expressed a strong desire for something to be done to address the problem.
The increased ranger patrols will start from Saturday 28 September, the first weekend of the NSW spring school holidays, and be reviewed at the conclusion of the 2019-2020 financial year.
Mr Macdonald said Council approved additional funding of $11,800 for the 2019-2020 year for the increased beach patrols by rangers.
He said Council would continue to work with NSW Police, Crowns Lands and the National Parks and Wildlife Service as part of the strategy.
Council received a total of 76 submissions in community consultation, with 25 saying yes to a permit system and 30 saying no.
Alongside those, an additional 10 wanted a free permit for locals if the system was introduced, eight stated there should not be any vehicles on the beach at all except for emergency vehicles, and 13 provided feedback without stating a preference.
Richmond Valley Mayor Robert Mustow said the increase in ranger patrols was a necessary investment to address the problem.
"Using a 4WD on the beach is a privilege and while most people respect the rules, a few bad apples can wreck the experience for others," Cr Mustow said.
"This is an investment in the future of an important environmental asset of the Richmond Valley for our local community and our regular visitors, and our valued wildlife."