Proposed road closing under Section 38b Roads Act 1993
In pursuance of the provisions of the Roads Act 1993, notice is hereby given that Richmond Valley Council proposes to close the council public road listed in Schedule 1.
Schedule 1:
Land identified as Lot 1 DP 1256308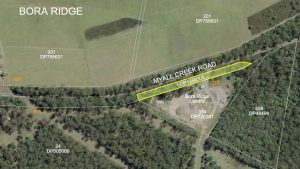 Upon closure of the road, Council intends to retain the land for operational purposes.
The proposal will be publicly exhibited for 28 days from Thursday, 16 July 2020 with submissions closing at 4pm on Wednesday 19 August 2020.
All interested persons are hereby invited to make submissions concerning the proposal to the General Manager, in the following ways:
Email to council@richmondvalley.nsw.gov.au
Fill out a Make a Submission form on this website here.
By post—Locked Bag 10 CASINO NSW 2470
By delivery to a Council Customer Service Centre—Casino or Evans Head.
Further information is available from Council on (02) 6660 0300.