Council has launched public exhibition of the new draft master plan for the future of Casino's biggest sporting precinct, Queen Elizabeth Park.
The master plan includes:
A new cricket clubhouse and amenities building to accommodate multiple game use and designed to regional standard to facilitate attraction of carnivals and higher-level competitions.
A new centrally located 245-space car park, including bus parking, with better access to all sporting grounds.
Cricket oval (No 7) enlarged to senior standard of 130m x 150m and including lighting, irrigation, drainage as required, traditional white picket fence, and east-west terrace seating.
An enlarged rugby league clubhouse including four change rooms grandstand and social room, to accommodate increased use by junior and senior codes, as well as upgrade to regional standard to facilitate attraction of carnivals and higher-level competitions, including the possibility of a one-off NRL pre-season game.
Two new main rugby league fields, Oval No. 4 and Oval No. 5, with lighting and fencing.
Water capture and re-use facilities for greyhound area.
New telecommunications tower and access at the northern end of the park.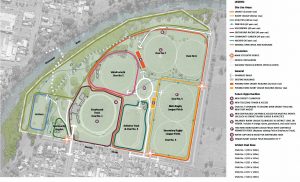 The plan will be on public exhibition until 21 September, and community members are encouraged the provide feedback on the draft plan.
You can view and download the master plan by by clicking the below link.
It can also be inspected at Council's customer service centres, 10 Graham Place Casino, between 8.30am and 5pm, Monday to Friday, and cnr Woodburn Street and School Lane Evans Head 9am to 5pm Monday to Friday and Saturday 9am to 12pm.
Any person may make a written submission during the exhibition period, by one of the following methods:
Email to council@richmondvalley.nsw.gov.au
Fill out a Make a Submission form on this website here.
By post—Locked Bag 10 CASINO NSW 2470
By delivery to a Council Administration Centre—Casino or Evans Head.
Where submissions are by way of objection the reasons for objecting must be explained.
Further information is available from Council on (02) 6660 0300.