Public feedback is now being sought on the Draft Bushfire Risk Management Plan (BFRMP) 2021-2026 for the Northern Rivers, which has been prepared by the Northern Rivers Bush Fire Management Committee.
Local Bush Fire Management Committees across NSW help identify assets at risk of bush fire in an area, which will include communities, buildings, infrastructure as well as culturally and environmentally significant locations. They then develop strategies to protect those assets.
Each Bush Fire Management Committee develops a Bush Fire Risk Management Plan for the. It sets out the types of work scheduled to deal with the risk of bush fires in an area. These works may range from a community engagement event to hazard reduction activities.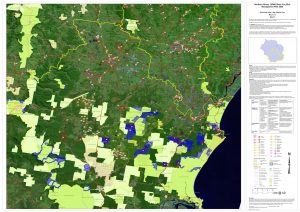 The community plays a vital role in developing these plans and everyone can have input.
In accordance with the Regulations to the Rural Fires Act 1997, the Draft Bushfire Risk Management Plan will be exhibited for a period of not less than 42 days during which time submissions are invited from the public.
As such, members of the public, whether as private individuals or as members of community interest groups are invited to comment on the plan.
Submissions should be in writing, and as detailed and specific as possible; however any comments, no matter how brief or general are welcome. All comments received will be referred to the Bush Fire Coordinating Committee with the plan for their final deliberation and approval.
Prior to finalising the plan, the Bush Fire Management Committee is required to consider the submissions to plan and prepare a review for consideration by the Bush Fire Coordinating Committee. Under the Act, the Bush Fire Coordinating Committee may approve the plan, amend the plan or reject the plan in the light of public submissions.
If significant changes are made to the plan after public exhibition, the draft plan will be placed on further exhibition prior to its final adoption.
Hard copies of the draft plan are available at the Casino and Evans Head Customer Service Centres, and Council library branches in Casino, Coraki, and Evans Head.
The display period is from Friday 11 December 2020 to Sunday 31 January 2021.
Comments should be forwarded to:
Executive Officer
Northern Rivers Bush Fire Management Committee
PO Box 888
CASINO NSW 2470
Additional information or enquires on any aspect of the plan can be obtained from northern.rivers@rfs.nsw.gov.au or by telephoning 02 6663 0000.