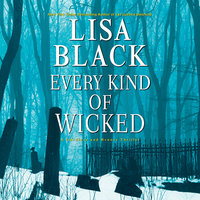 I have just read the audio recording of Every kind of wicked, a Gardiner & Renner thriller by Lisa Black. 
Maggie Gardiner is a beautiful, brilliant crime scene tech. Jack Renner is an almost deliberately non-descript, ordinary looking but extremely astute Police Detective.  A killer is on the loose but only Maggie & Jack recognise they are about to kill again.  Everyone thinks Maggie and Jack are partners in life and work, but this is a carefully maintained cover-story, they're truly only linked in their pursuit of justice.  Why all the pretense?  What's the secret that binds Maggie & Jack in their pursuit of justice?  Will it help them solve the latest crime spree? Or will it tear their worlds apart – exposing them to professional, public, personal ruin or permanent harm?
A very good mystery that I really enjoyed.  I look forward to reading another thriller from the Gardiner & Renner cri-fi series of Black's collection. 
Reviewed by Corinne Hughes, Kyogle Branch Librarian.