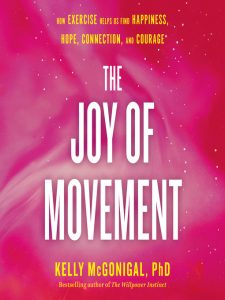 The Joy of Movement : how exercise helps us find happiness, hope, connection, and courage by Kelly McGonigal.
I read this book to further my understanding of the relationship between physical activity and mental health. The benefits of exercise for physical fitness are well known but in this book Kelly McGonigal discusses the ways in which moving our bodies has psychological benefits. For example, it can improve our mood, reduce depression, anxiety and loneliness, and increase resilience and connection.
Many real life stories are used as examples throughout the book, however there is also an emphasis on research that has been conducted. I liked the style this book was written in (but found the numerous mentions of experiments being done on mice confronting). Overall it is a really informative read.
Reviewed by Taryn Kelly, Library Technician.