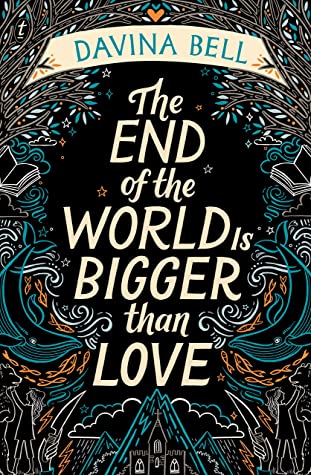 The End of the World is Bigger Than Love by Davina Bell
This is a Young Adult novel by an Australian author and it won the Ethel Turner Prize for Young People's Literature in the NSW Premier's Literary Awards 2021. It has also been shortlisted for the Children's Book of the Year Awards to be announced later this month. The story contains mature themes and will appeal to readers from approx. 16 years to adult.
The story is told from two points of view by twin sisters Summer and Winter. The teenage girls are surviving in a post-pandemic world, alone on an uninhabited island, and are coming to terms with the different roles their parents played in the lead-up to the pandemic and their subsequent deaths. It is sometimes difficult to know what is real and what is imagined by the girls as they try to make sense of what is happening in the world.
Although dealing with traumatic and confusing events, the writing style is at times very funny. I loved the frequent references to classic books that the girls enjoy reading, and to well-known people and events such as "King Charles and Camilla" and the wall separating the US from Mexico.
This book is unlike any other that I've ever read. It is dystopian with strong elements of family, coming-of-age and some romance. It is very thought-provoking and I could not put it down!
5 stars.
Reviewed by Taryn Kelly, Library Technician.