Nevermoor series by Jessica Townsend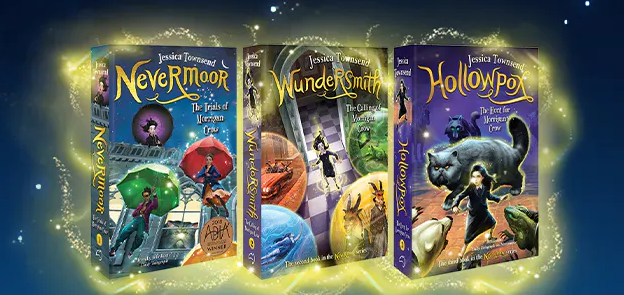 Nevermoor : the trials of Morrigan Crow
Wundersmith : the calling of Morrigan Crow
Hollowpox : the hunt for Morrigan Crow
I AM IN LOVE WITH THIS SERIES!
Wow, where do I start? The minute I first heard that Nevermoor was not only being called "the next Harry Potter", but that it was written by a young Australian woman, I just had to read it. And I can't recommend it enough!
Morrigan Crow is a young girl who has grown up believing she is cursed, and is told that her curse is the cause of all the bad things that happen to people she comes in contact with. Like all cursed children, she expects to die on her eleventh birthday. To her amazement, she is rescued from this fate at the last minute by the mysterious Jupiter North who takes her to a secret and magical world called Nevermoor. Morrigan learns that Jupiter is a member of the Wundrous Society, and has brought her to Nevermoor to compete against children with magical talents for her own place in the society. Morrigan is confused. She doesn't have a magical talent……or does she?
The similarities with the Harry Potter series are obvious, but I found Jessica Townsend's writing style appealed to me much more. The humour, the magic, the suspense and the emotion are all brilliant. I could easily relate to Morrigan and found her so likeable. I also love the messages that are conveyed throughout the Nevermoor series, such as acceptance and inclusivity. Five stars to all the titles so far! I eagerly await the next book in the series.
Reviewed by Taryn Kelly – Library Technician