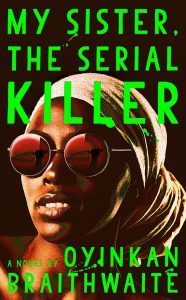 The debut novel by Oyinkan Braithwaite is the best book I've read this year!
Far from a typical murder mystery, we discover the identity of the killer on the opening page and throughout the story are given insight into why the murders are happening.
Ayoola is a young woman living in modern Nigeria and relies on her sister Korede to literally clean up her messes as she kills one after another of her boyfriends. Korede is an intelligent and hard-working nurse who covers up the murders to protect Ayoola. As time goes on Korede begins to question Ayoola's claims that she only kills in self-defence. Korede's loyalty to her sister is challenged when Ayoola begins flirting with a new man, who happens to be Korede's boss and the object of her desire.
My Sister, the Serial Killer examines the complex bond between sisters. It is a quick and very compelling read full of dark humour. I give it 5 stars.
Taryn Kelly – Library Technician