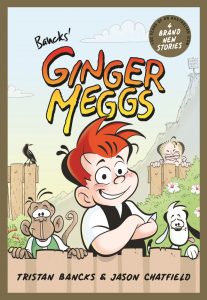 Ginger Meggs by Tristan Bancks
Reserve a copy of Ginger Meggs here.
Tristan Bancks is an author living in the Northern Rivers and is the great-great nephew of the creator of Australian icon Ginger Meggs. To celebrate 100 years of Ginger Meggs Tristan has written 4 short stories starring Ginger and his mates, illustrated by cartoonist Jason Chatfield.
These new stories are all about Ginger's adventures with a death-defying billycart challenge, a lamington money-making scheme, a class captain campaign, and an eventful camping trip. They are very funny and remain true to the original characterisation of Ginger Meggs. I really enjoyed reading this book and think it will appeal to people of all ages. It's also the perfect book to read aloud with the whole family.
Reviewed by Taryn Kelly – Casino Library Technician