470 by Linda Woodrow.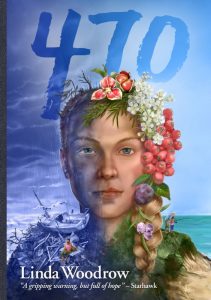 470 is the first cli-fi (climate fiction) novel that I have read. As such, I wasn't sure what to expect – I thought it might be apocalyptic or dystopian. I decided to read 470 because the author, Linda Woodrow, was coming to the library for a book launch event. I found Linda's presentation to be fascinating and discovered that she had put a huge amount of time and effort into researching the science of climate change in order to write this novel. Understanding that fact, in addition to the familiar local setting for the story, made its impact really hard-hitting.
470 is the story of two sisters living near Mullumbimby in the year 2031. Zanna and Kat survive a cyclone which brings major upheaval to their lives, whilst their parents in Melbourne are surrounded by bushfires. The whole country is going through water and electricity shortages, banks are closed, hospitals are overflowing, and groceries and fuel are expensive and scarce. Healthcare and medicines are difficult to access and this leads to traumatic events for many people. Some adapt to these changes better than others. Being part of a self-sufficient community, Zanna and Kat are able to grow fruit and vegetables and trade these with neighbours for other goods or services. When various family and friends of the community residents arrive looking for respite from city living, clashes in ethics and morals arise.
470 shows that while climate change is having ever-increasing impacts on our way of life, there are things we can do now that will have real positive effects into the future. It is a hopeful story, with suspenseful elements, some likeable characters and a beautiful setting in the Northern Rivers of New South Wales.
Taryn Kelly – Library Technician.