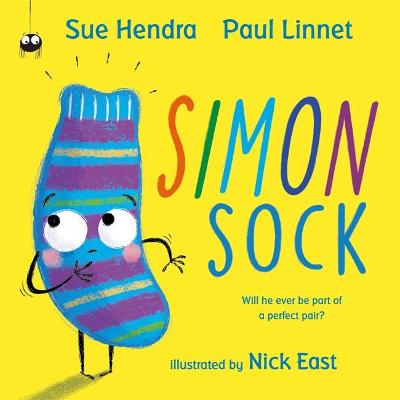 Simon Sock by Sue Hendra & Paul Linnet, illustrated by Nick East.

Reserve a copy of Simon Sock here.
I recently read 'Simon Sock' with the Kookaburra Preschool children during our library visit together and as part of a discussion about friendship and difference.
Simon the stripy sock is an odd sock who sets out on an adventure with the help of his friend to find his missing pair. Simon soon discovers that you don't have to be exactly the same in order to make a perfect pair and that friendship can be found in all kinds of places. The book is humorous and contains a positive message that it is okay to be different and it is great to make friends who are different to ourselves. It is ideal for teaching and discussing the important concepts of friendship, kindness, difference and helping others as well as being humorous and containing bright, colourful illustrations that make the story even more appealing.
Reviewed by Tamara Patino – Library Assistant.