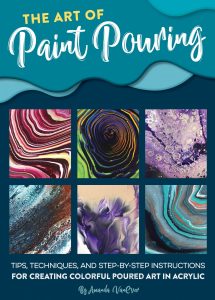 The Art of Paint Pouring by Amanda VanEver
The paint pouring trend has been around for a couple of years. It's an abstract art technique that combines acrylic paint with a pouring medium to create colourful and unique artworks. It wasn't until I read The art of paint pouring that I felt ready to give it a try.
This book outlines clearly and succinctly everything you need to know to get started. From paints to pouring mediums, essential items, safety concerns and the many surfaces that can be used in paint pouring, you will find it all in this book. There is a section on colour basics and the author's favourite colour palettes to inspire the reader. How to mix paints and mediums is explained along with how to create cells in your finished artwork. You will even find ways to save and reuse your leftover paint. Protecting your finished paintings is addressed with a section on different types of varnish and how to apply them. Several pouring techniques are explained with step-by-step instructions and clear photos of each stage.
The hardest decision I had to make was whether to start with a flip cup, tree ring or puddle pour, which are just three of the many pouring techniques you will discover in this book. There are also many helpful hints and tips throughout the book. While the author primarily demonstrates using canvas and wood surfaces, there is also a great section on alternative surfaces for creating jewellery, decorative pots, coasters and more.
I suggest you forget scouring Youtube for paint pouring tutorials and grab this book instead. It is a genuine compilation of everything you need to know and more. I spent an afternoon of paint pouring with my teenage son and my mother and I can testify that it is suitable for people of all skill levels. This is by no means a clean craft but the fun we had left us feeling like accomplished artists.
I give it 5/5.
Reviewed by Sylvia Cooling – Coordinator Programs and Events.