Slow cooker central : ready, set, slow! by Paulene Christie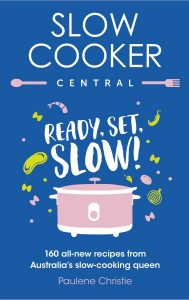 This is the one book that has truly inspired me to use my slow cooker to its full potential. Australian author Paulene Christie knows everything there is to know about cooking in slow cookers and there are so many recipes to love in this book! It is organised into easy-to-navigate headings that reflect the main ingredients, making it super simple to plan your family meals. The recipes boast delicious food for every occasion and flavours from all around the world. Best of all, every recipe is easy to follow and includes readily available ingredients so you will save time, money and stress in the kitchen. I especially love the way Paulene uses soup.
Our family favourites? It's hard to choose, but the Chocolate Brownie is definitely a winner with the kids! The Spaghetti Bolognaise sauce is super simple and wholesome. As for the Potato Gem Bake, you will just have to try it for yourself!
Sylvia Cooling – Coordinator Programs and Events