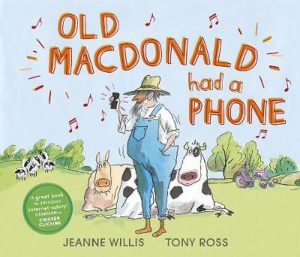 Old Macdonald had a phone by Jeanne Willis, illustrated by Tony Ross.
This is the fourth picture book Jeanne Willis has written in the online-safety series.
Old Macdonald now has a phone to help him manage the day to day running of his farm. When he drops the phone in water he goes online shopping to get a new one and accidentally buys 100! So now all of his animals have a phone and spend their days chatting and taking selfies. The hens have stopped laying and the sheepdog has lost the lambs – the farm work has come to a halt. It is his son, Young Macdonald, who helps to teach the animals how to manage screen time and still get the farm work done.
With the traditional rhythmic style of Old Macdonald had a farm I found myself singing through this delightful farmyard tale. I love the way Tony Ross illustrates in a fun and quirky way which makes this just as much a visual joy for the reader. This is such a fun book for exploring a common dilemma of today's society.
Suitable for preschool to early primary aged children, I give it 5/5.
Reviewed by Sylvia Cooling, Coordinator Programs and Events.