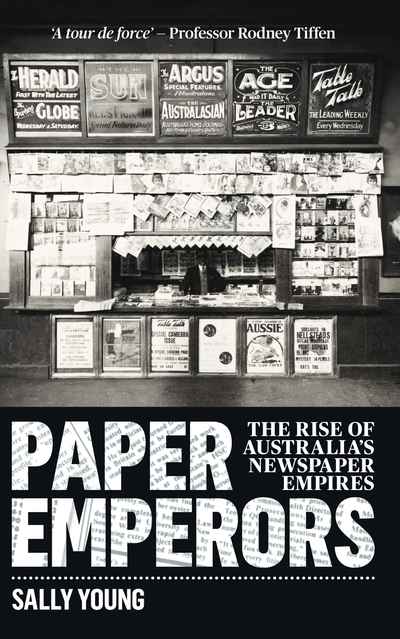 Paper Emperors : the Rise of Australia's Newspaper Empires by Sally Young.
The Introduction to Paper Emperors begins:  'Newspapers have found it difficult to tell the truth about themselves.' The author, Sally Young, with the help of five research assistants, then sets out to give us some truths by outlining the history of our newspapers from the very beginning in 1803 to the resignation of Menzies in 1941.
There are familiar names like Murdoch, Fairfax and Baillieu, but also people who did not reveal themselves to the public eye, such as W S Robinson: 'He was often behind the news but rarely in it'.  Historian Humphrey McQueen described him as 'the most important individual in Australian economic and political life for 30 years after 1915 and possibly for the entire century".
It is a long and detailed account covering the many newspapers produced by owners who were hidden behind elaborate company structures, shadowy trusts etc, and which wielded great power over public policy, lobbied and bullied politicians and shaped internal party politics in Australia.  Menzies believed in 1941 that the press barons brought him down.  Newspapers had long sought to influence the biggest policy issues of their time but they were particularly active whenever public policy would have an impact upon their commercial  success.  They also actively lobbied for or against particular parties and politicians while assuring the public that they were neutral, impartial observers, as many do today.
Reviewed by Ruth Mogg, Casino Library member.