You're doing it wrong: a history of bad & bonkers advice to women – written by Kaz Cooke
I have been a fan of Kaz Cooke for many years. I remember reading Real Gorgeous : the truth about body and beauty in my late teens, Real Women in my 20s, Up the Duff through my first 2 pregnancies, and have shared Girl Stuff with my daughter.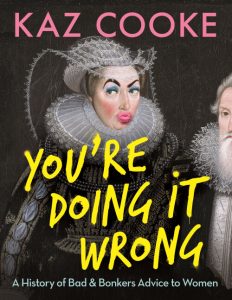 Her research is thorough, and her writing style is both biting and humorous, with just the right amount of sass for my liking.
This latest book focuses on the terrible, or at times, harmful advice given to women throughout history. By highlighting these ideas and linking unhelpful/harmful views perpetuated today, to historical behaviours, it can enlighten and inspire people to ignore, or at least better understand, what is going on.
There is international content, but a large percentage of the information presented is Australian, which for me, as an Australian, was particularly interesting (and cringe-worthy).
The book covers a wide selection of content, with chapters titled "Sit down & shoosh", "Find a man & do married sex", "Your body shape is wrong" and "Be a perfect mother, which is impossible".
Her views are respectful, especially when discussing the history of slavery and the treatment of Aboriginal Australian women as servants in households in Australia's not-too-distant past.
I highly recommend this book and its aims to highlight terrible advice prescribed to women so we can acknowledge it and stop believing it, if we want to.
It doesn't matter who you are attracted to, nor if you are white, Aboriginal, trans, or of any specific cultural or religious background; if you are a woman, you are not doing it wrong. You are worthwhile, and you deserve a good life, and a right to your own thoughts, feelings, expressions and experiences.
5 Stars
Reviewed by Ngarie
Casino Library Coordinator