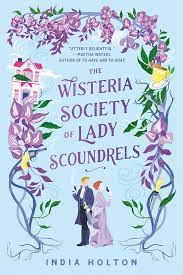 The Wisteria Society of Lady Scoundrels by India Holton.
This is such a fabulous and entertaining story from debut New Zealand author India Holton. It is full of action, and doesn't stop its fast pace the whole way through the book, yet it also includes a great deal of drama, intrigue, humour, and romance as well. If I had a give it a genre, I would call it a feminist humorous Victorian-era historical romance action and adventure novel. (That narrows it down, right?!)
This story introduces us to a group of unconventional Victorian-era lady thieves who are part of the Wisteria Society. Cecilia Bassingwaite and her aunt are living the life of intelligent, prim and proper Victorian ladies in a comfortable home with a servant; but they also trust no one, and steal whatever they want, whenever they want it, because as you know, impeccable manners and regular cups of tea are highly important when plotting who you next have to steal from or kill.
Add to this combination, an assassin and pirate Ned Lightbourne, (he's a good one….or is he?), and Captain Morvath (definitely a bad one), Queen Victoria, a motley cast of lady thieves and their families and friends, and some very scared locals, you have a complex story of intrigue to keep everyone on their toes.
Oh, and did I mention that instead of sailing ships on the water, they all fly houses and castles to travel?
This first title in the Dangerous Damsels series was such an enjoyable and fun read, and I can't wait for the second one to be released in 2022.
Reviewed by Ngarie Macqueen, Casino Library Coordinator.