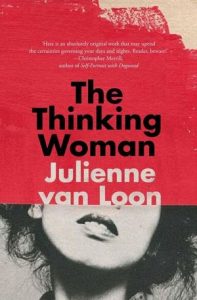 Anne Summers states in the foreword that this piece of work "aims to 'connect philosophical thinking and everyday life' ", and I wholeheartedly agree.
van Loon's writing explores: love, play, work, fear, wonder and friendship, and she achieves this by intertwining deeply personal experiences with the views and research of six feminist thinking women – novelists, philosophers, historians, psychoanalysts and University professors.
She doesn't direct us as to what we should think. On the contrary, van Loon seeks to connect with the reader and simply share the ideas explored so that we can develop our own personal understanding from them based on our own life experiences.
I very much enjoyed her personal and simple style of writing and the wide variety of perspectives shared. I found the ideas reassuring, surprising, comforting and challenging and I am so glad I had the privilege of reading it.
Ngarie Macqueen – Casino Library Coordinator