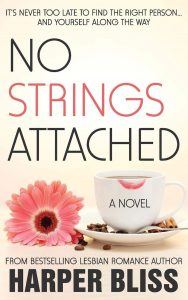 No Strings Attached by Harper Bliss

Reserve a copy of No Strings Attached here.
No Strings Attached is a lesbian romance story by Harper Bliss. As well as being a writer, Harper hosts a weekly podcast with her wife called Harper Bliss & Her Mrs.
This book is the first lesbian romance I have read. I am a great lover of romance novels of all different backgrounds and genres, and have read a gay romance between 2 men, but this was my first time with two ladies(!).
One of the most wonderful parts of reading fiction is that it allows you to experience, (or at the very least observe), another life and other ways of thinking. At its best, this allows us to develop empathy for others in this world, and empathy for others is something I feel very strongly about, so I thought it might be nice to read a lesbian romance book.
No Strings Attached is contemporary romance. It is set in Sydney, where we find Micky, a divorced woman, (from a man), and mother trying to find fulfillment in her life. On getting a job at her local coffee shop, The Pink Bean, she comes across a larger than life American woman Robin, and the emotional connection is instant. What's wonderful about this story is that both the writing, and the characters themselves, are very honest and down-to-earth. Both Micky and Robin are honest to their feelings and emotions, as well as respectful of the commitments in their lives, and those surrounding them. They are intelligent, caring, loving, and hard-working women.
Not being a lesbian, I didn't connect as strongly with the romance as I do when it's a heterosexual connection between a man and woman, but I still really enjoyed the story overall. There was something particularly touching to experience Micky's first love with a woman, when she's in her 40s. Finding her direction and a stronger connection to who she really was at that age and in that time was something that resonated with me.
Reviewed By Ngarie Macqueen, Casino Library Coordinator