Chain of Gold is the first book in Cassandra Clare's new trilogy "The Last Hours" which takes part in her universe "The Shadowhunters Chronicles."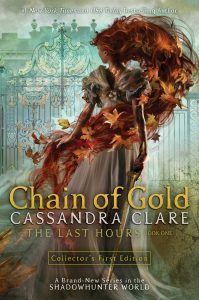 Chain of Gold is a historical fantasy book set in the 1900s and follows Cordelia Carstairs after her father has been accused of a crime that forces her family to move to London to escape the shame.
In London, Cordelia is reunited with her childhood friends James and Lucie Herondale and is drawn into their world. Cordelia finds herself having to consider potential marriage suitors while keeping her long-time crush on James a secret.
When a series of demon attacks devastate London, Cordelia and her friends make it their mission to find out why they are happening and stop them. Chain of Gold is fun and easy to read. It is a nice addition to the Shadowhunters Universe.
Laura Ramstadius – Library Assistant