Boy Swallows Universe by Trent Dalton
Reserve the large print edition here.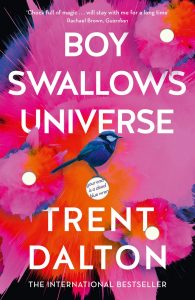 Casino village book club has just finished its first book and hence the following review.
All 10 members took a copy of the book with 8 completing the book.
One member thoroughly enjoyed the book from the opening page even reading it a second time. However, the general consensus was that it had a very slow and often disjointed beginning and only the encouragement of other members saw them continuing to read on.
The subject matter of the book was often very confronting but the very detailed and often amusing descriptions of places and events held your interest. For those who know or grew up in the Brisbane area it was a trip through memory lane.
All characters had depth and the main male characters could well be described as good men doing bad things.
In essence the story follows the life of a boy from 12-18 years growing up in the 1980s in lower socioeconomic areas of Brisbane amidst a world of drugs and criminals within a very disjointed family. Always in the story the reader felt that this boy was destined for a better life. In the end key phrases and characters presented early in the book came together in a really satisfying ending.
All members believe that parts of this boys story is the authors own story.
It was a book that had you chuckling in some places and reaching for tissues in other parts. All agreed that it was a book they would have probably left on the shelf if not chosen for our read but despite some difficult sections were very pleased to have read it and may read another of his books. Overall rating 7/10
Reviewed by Jan Binskin, Casino Library Member.