Wild Place by Christian White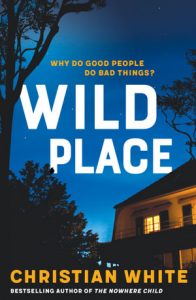 This is a great book by one of my new favourite Australian authors. It is a captivating thriller. I also really enjoyed his other books The Nowhere child and The Wife and the Widow.
In some aspects his books are very similar to Harlan Coben with the unexpected twists in the story.
The Wild Place is set in the Australian suburb of Camp Hill in 1989. The action of this story begins with the disappearance of a local teenager, whose parents are in the process of being divorced. Despite her odd activity before her disappearance, including complaints of a stalker, cops dismiss the case as a runaway, with the investigating officer even going off on holidays and leaving the mystery wide open to speculation. A local school teacher is convinced he holds the key to the disappearance. When the police won't listen, he takes matters into his own hands with the help of the missing girl's father and a local neighbourhood watch group.
Like his earlier novels, Wild Place is a truly addictive thriller. This book is like a time capsule of life in the late '80s in Aussie suburbia.
All 3 books are available at the library and as eBooks on Borrowbox. The nowhere child and The Wide and the widow are available as eAudio on Libby
5 stars
Reviewed by Gary Ellem – Manager Regional Library