When you are mine by Michael Robotham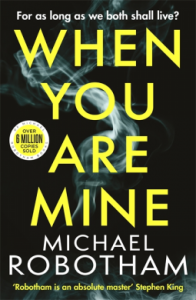 I have read a couple of Michael Robotham books and have enjoyed them all. This is a stand-alone title and not part of a series.
Philomena McCarthy has defied the odds and become a promising young officer with the Metropolitan Police despite being the daughter of a notorious London gangster. Called to the scene of a domestic assault one day, she rescues a bloodied young woman, Tempe Brown , the mistress of a decorated detective. The incident is hushed up, but Phil has unwittingly made a dangerous enemy with powerful friends.
This is a good thriller with some good twists and is hard to put down. Highly recommend.
4 stars